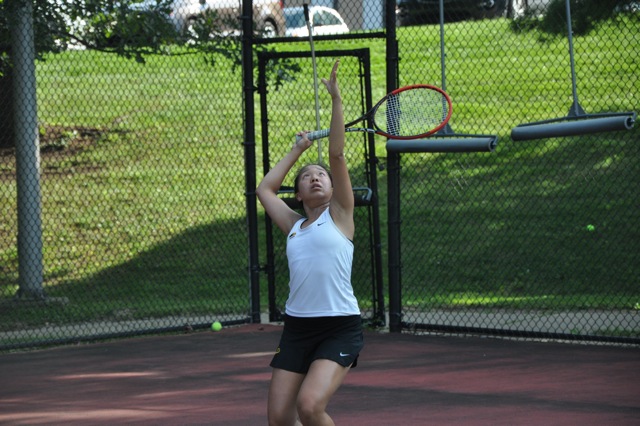 NA Girls' Tennis Punishes Penn-Trafford, 5-0
The North Allegheny girls' tennis team won its third straight game on Thursday afternoon with a 5-0 non-section triumph over the Penn-Trafford Warriors. The Lady Tigers made it look easy and lost only a single point in the entire match. In doubles play, Tristyn Maalouf and Elena Kolano, and Jenna Kolano and Keerthana Samanthapeudi, won in straight sets by a score of 6-0, 6-0.
At #1 and #3 singles, Anna Li and Ashley Huang followed suit with 6-0, 6-0, wins. At #2 singles, Tina Li defeated Lauren McBarron by a 6-1, 6-0, decision.
North Allegheny jumps to 4-1 overall with the victory. The Lady Tigers look to continue their winning ways with a home section match against Butler at 3:30 pm.
Girls Tennis Summary vs. Penn-Trafford, 9-3-15
Match Summary

NORTH ALLEGHENY - 5
PENN-TRAFFORD - 0
SINGLES
#1
Anna Li (NA) def. Elise Eisenstat (PT)
6-0, 6-0
#2
Tina Li (NA) def. Lauren McBarron (PT)
6-1, 6-0
#3
Ashley Huang (NA) def. Emma Trevensen
6-0, 6-0
DOUBLES
#1
Tristyn Maalouf/Elena Kolano (NA) def. Shreya Sudad/Niki McClure (PT)
6-0, 6-0
#2
Jenna Kolano/Keerthana Samanthapeudi (NA) def. not available (PT)
6-0, 6-0