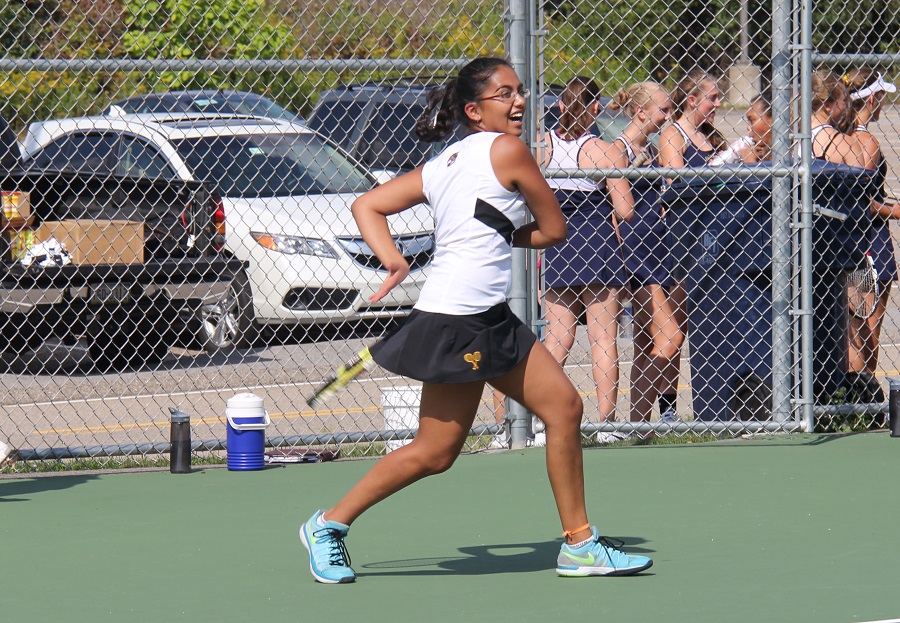 NA Girls' Tennis Wins Ninth Straight
North Allegheny extended its winning streak to nine in a row with a 4-1 triumph over the North Hills Indians on Friday afternoon. The Lady Tigers swept through singles play with victories by Anna Li, Tina Li and Ashley Huang.
The Indians managed a victory at #1 doubles, but the NA duo of Maia Sowers and Keerthana Smanathapudi closed things out with a 7-6 (6-4), 6-1, win over Allyson Gitzer and Lisa Winkler at #2 doubles.
North Allegheny leaps to 10-1 overall and 7-0 in section play. The Lady Tigers look to continue their winning ways on Monday with a home section match against the Seneca Valley Raiders.
Girls Tennis Summary vs. North Hills, 9-25-15
Match Summary

NORTH ALLEGHENY - 4
NORTH HILLS - 1
SINGLES
#1
Anna Li (NA) def. Monica Brunner (NH)
6-1, 6-1
#2
Tina Li (NA) def. Anna McConnell (NH)
6-0, 6-0
#3
Ashley Huang (NA) def. Jamie Ley (NH)
6-1, 6-0
DOUBLES
#1
Sara Custer/Amanda Dunbar (NH) def. Riya Yadar/Jenna Kolano (NA)
6-3, 3-6, 10-8
#2
Maia Sowers/Keerthana Smanathapudi (NA) def. Allyson Gitzer/Lisa Winkler (NH)
7-6 (6-4), 6-1