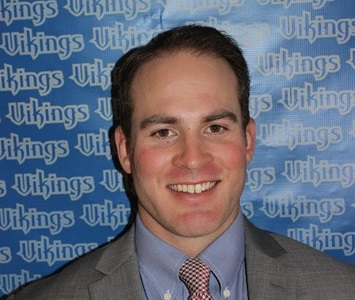 NA Grad Named Men's Lacrosse Coach At Augustana College
Augustana College in Rock Island, Illinois has named Dan Torie, a man with assistant coaching experience at three NCAA Division III institutions, to replace Kyle Hart as its head men's lacrosse coach. Torie, who has served as the assistant coach and defensive coordinator at Franklin & Marshall since July of 2013, has become the second coach in the history of the Vikings. Torie is a member of the North Allegheny Class of 2004 and former boys' lacrosse player for the Tigers.
"I am honored and humbled to become the head men's lacrosse coach at Augustana," said Torie. "I would like to thank President Bahls and Director of Athletics Mike Zapolski for this special opportunity. I believe my duty is to ensure that the lacrosse program at Augustana reflects and enhances the academic mission of the school."
Torie has had his hand in several facets of the program at Franklin & Marshall and he helped the Diplomats to the Centennial Conference Championship game and an NCAA Division III final ranking of 18th in 2014. In his two seasons at Franklin & Marshall, his defensive unit led the conference in caused turnovers and was in the top three in the nine-team conference in goals-against both years.
Prior to taking the position at Franklin & Marshall he was assistant coach/defensive & recruiting coordinator at Susquehanna University for three years from 2010-13. He was part of the Landmark Conference's "Coaching Staff of the Year" in 2011 and helped the Crusaders win the Landmark in 2013. In 2013 Susquehanna earned an NCAA Division III Tournament appearance for the first time in school history.
He also served as an assistant coach at Hendrix College in Conway, Arkansas during the 2009-10 school year.
"Dan is an excellent fit for Augustana and our men's lacrosse program," said director of athletics Mike Zapolski. "We are excited to have him on board. Dan has coached at schools that are similar to Augustana. He is stepping into an excellent situation here and is eager to begin working with the team and diving into the all-important area of recruitment."
Torie is a 2009 graduate of Susquehanna where he received his Bachelor of Science degree in business administration with an emphasis on entrepreneurship. He was a two-time team captain for the Crusaders and a three-year starter as a midfielder. In his senior season he led the team in ground balls and was selected as the team's Best Defensive Player.
He will inherit a team that turned in a record of 14-5, won the College Conference of Illinois & Wisconsin Tournament and earned the school's first ever NCAA Division III post-season bid.
"I am eager to work with the members of the men's lacrosse team as we strive together to achieve competitive excellence on and off the field," said Torie.
(Story courtesy of Augustana College.)