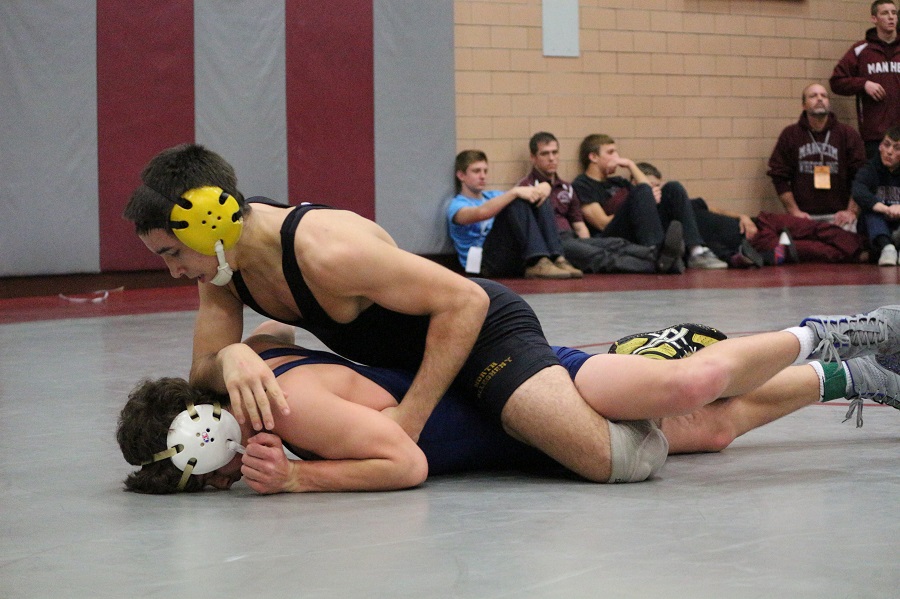 NA Grapplers Upended In WPIAL Semifinals
Against the top-seeded Franklin Panthers on Friday night, North Allegheny fell by a 49-24 final in the WPIAL Semifinals.  It was the third semifinal appearance for the Tigers in as many seasons, but the powerful Panthers were a bit too much to handle.  Franklin Regional will face Latrobe today at 6:30 pm in the WPIAL Championship.  North Allegheny still has hope for reaching states as the Tigers will battle Canon-McMillan in the Third Place Consolations at 2:00 pm.  Both matches will be hosted by Chartiers Valley High School.
Despite the loss to the Panthers, the Tigers scratched and clawed with their top-ranked opponent.  Colton Byerly (182) and Zach Smith (220) earned pin falls for NA.  Clay Byerly picked up a tech fall at 195 pounds and Dom Forys earned a 15-6 major decision at 126 pounds. Scotty Stossel collected a 17-11 decision over Kyle Berk at 120 pounds.
North Allegheny falls to 12-1 overall but will battle Canon-McMillan this afternoon with a trip to the PIAA Team Tournament on the line.  The match can be heard live courtesy of WJPA Radio by clicking here.
Wrestling Match Summary: NA vs. Franklin Regional
WPIAL Semifinals
| Weight | Wrestlers | Score |
| --- | --- | --- |
| 106 | Devin Brown (FR) pinned Zack Stedeford (NA) | 5:24 |
| 113 | Spencer Lee (FR) tech fall Luke Landefeld (NA) | 17-1 |
| 120 | Scotty Stossel (NA) dec. Kyle Berk (FR) | 17-11 |
| 126 | Dom Forys (NA) maj. dec. Dom Giannangeli (FR) | 15-6 |
| 132 | Tyler Smith (FR) tech fall Jake Hinkson (NA) | 22-5 |
| 138 | Michael Kemerer (FR) pinned A.J. Boeh (NA) | 5:39 |
| 145 | Josh Maruca (FR) pinned Richie Boeh (NA) | 0:48 |
| 152 | Josh Shields (FR) tech fall Blynn Shideler (NA) | 19-2 |
| 160 | Brandon Yant (FR) dec. Jake Woodley (NA) | 9-1 |
| 170 | Nate Painter (FR) pinned David Tallman (NA) | 3:44 |
| 182 | Colton Byerly (NA) pinned Jeremy Nestor (FR) | 0:47 |
| 195 | Clay Byerly (NA) tech fall Zach Reckein (FR) | 17-1 |
| 220 | Zach Smith (NA) pinned Brett Zanotto (FR) | 3:18 |
| 285 | Charlie Mazon (FR) pinned David Probert (NA) | 0:53 |