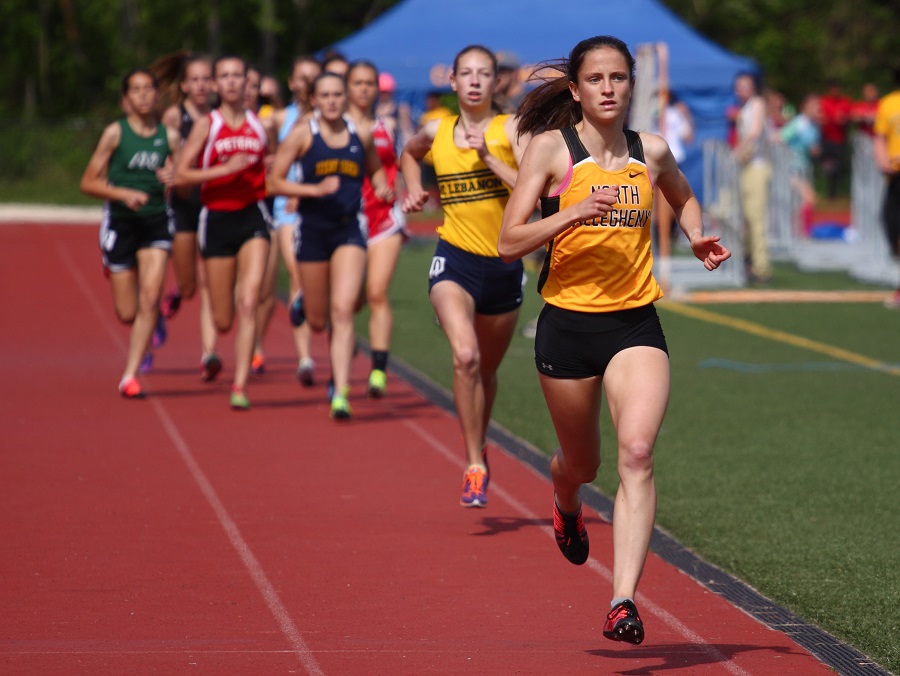 NA No. 1 In Distance As School Records Fall
The NA Lady Tigers were up to the challenge to qualify as many individuals to the PIAA Championship Meet.  The highlight of the night goes to double winner Madeleine Davison as she earned gold medals in both the 1600m (4:50.55) and a school record breaking performance as well as a new WPIAL record in the 3200m with a time of 10:35.55.  In that same race Clara Savchik raced her way to a 7th place finish (11:06.66) and also qualified for the championship meet.  On the track other championship qualifying performances were set by Makenna Owens' 6th place finish in the 100m (12.54), the 4 x 800m (Maria Gonchar, KC Anton, Erin Keelen, Sam Shoup) and the 4 x 400m (Maria Gonchar, Anna Verardi, Josie Landis, Nicole Rich) Relay teams which placed 2nd and 3rd respectively.  Hannah Fellers was the only NA field event individual who qualified in the field with a 11'0" 4th place performance in the pole vault.
The Boys Team was equally motivated and as the sun set that night 7 individuals and 1 relay team qualified for the PIAA Championship Meet.  The 4 x 800m Relay team of Caleb Schaelchlin , Scott Seel, Jacob Stupak, & Matt McGoey started the meet with an impressive 3rd place finish and a time of 7:58.75.  Bobby Upton and Andrew Manz both placed 2nd in their field events as Bobby pole vaulted 15'0" and Andrew threw the Javelin 190'2".   On the track hurdler Ayden Owens raced to a seasonal best 4th place time of 39.41 in the 300m Intermediate Hurdle race.   Scott Seel and Jacob Stupak also ran career best performances as Scott placed 3rd in the 800m (1:56.07) and Jacob 3rd in the 1600m run (4:21.29).  One of the most exciting races on the track that night was the 3200m where Hunter Wharrey captured 4th place (9:18.88) and Matt McGoey finished his WPIAL career in amazing fashion as he broke the WPIAL record as well as NA's school record with a time of 8:56.43.
These amazing Tigers tracksters will be traveling to Shippensburg PA for the PIAA Championship Meet held on May 22nd and 23rd.  We wish them all the best of luck.  Go Tigers!
(Photo courtesy of NA grad Max Petrosky.)