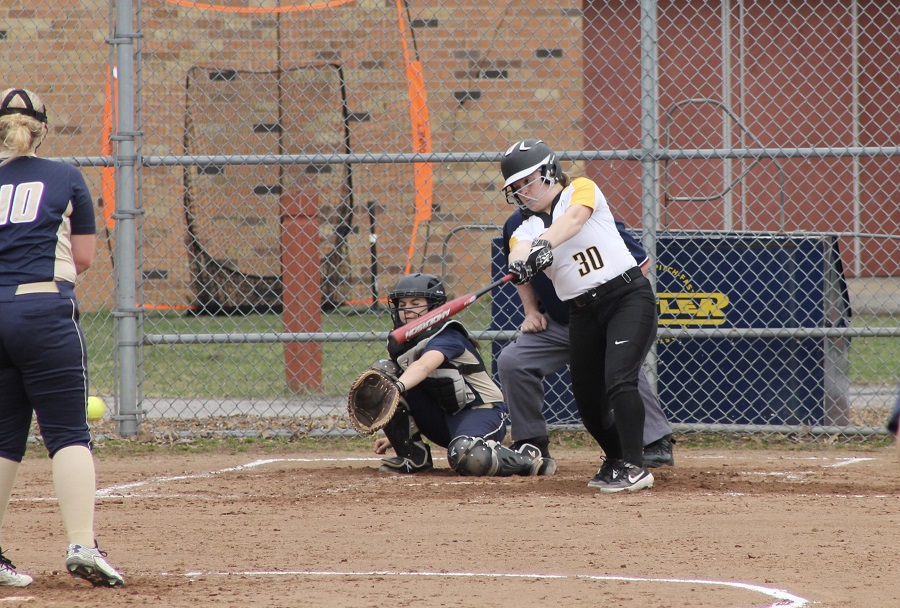 NA Offense Pounds Out 15 Runs In Win At Butler
The North Allegheny Tigers defeated the Butler Golden Tornado 15-2 in a high-scoring contest that broke open in the last two innings of play.
The Golden Tornado held the Tigers to seven hits through the four innings, in which the score was 5-2 in favor of North Allegheny. However, a sacrifice fly by junior Lauren Harris in the fifth and RBI singles by seniors Rachel Martindale and Regan Brodine in the sixth increased the NA lead to 9-2. Then, in the seventh inning, a series of hits earned NA their last six unanswered runs to close out a 15-2 victory.
The Tigers tallied a total of 19 hits against the Golden Tornado, led by strong offensive performances by Brodine, (3 for 4), senior Kristen Chomos (4 for 4) and sophomore Chloe Szczepaniak (4 for 5). Szczepaniak drove in three runs for the Tigers.
Junior Sophia Dollard pitched a complete game, giving up just five hits and striking out five batters. She also drove in two runs at the plate.
The Tigers improve to an overall record of 5-0 and 4-0 in section. NA will travel to Pine-Richland on Wednesday to play the Rams at 4:00. 
Box Score - Softball vs. Butler - 04/08/2019
| Score by Innings | 1 | 2 | 3 | 4 | 5 | 6 | 7 | R | H | E |
| --- | --- | --- | --- | --- | --- | --- | --- | --- | --- | --- |
| North Allegheny | 2 | 0 | 3 | 0 | 1 | 3 | 6 | 15 | 19 | 2 |
| Butler | 0 | 0 | 0 | 2 | 0 | 0 | 0 | 2 | 5 | 0 |
WP - Sophia Dollard (2-0) LP - Shelby Barnett