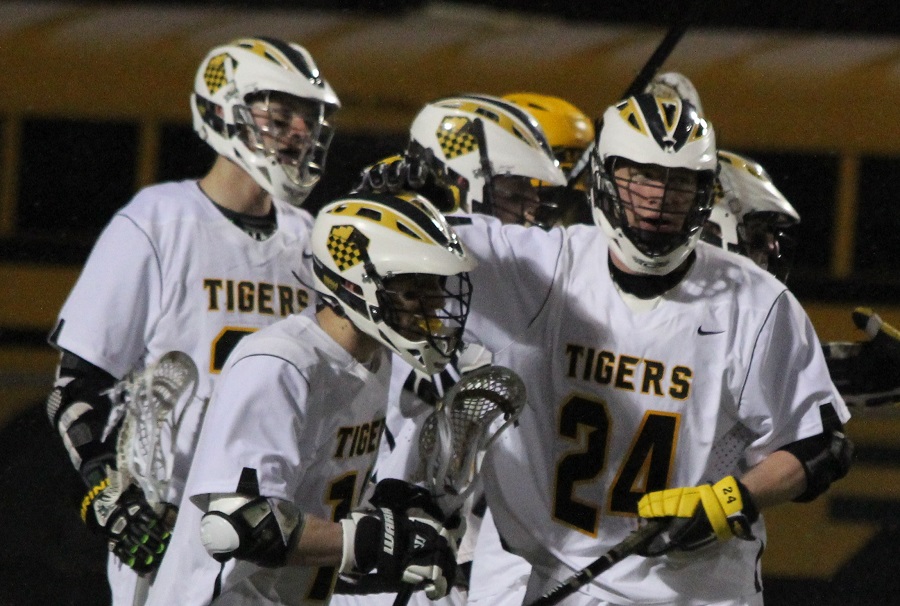 NA Outlasts Shady Side In Triple OT, Advances To WPIAL Championship
The North Allegheny boys' lacrosse team defeated Shady Side Academy, 8-7, in triple overtime on Tuesday night to advance to the WPIAL championship game.  The Tigers trailed all night but were able to tie it midway through the fourth period to send the game into overtime.
Shady Side Academy scored the first two goals of the night in the first five minutes getting goals from Alec Bernstein and Max Jaffe.  The Tigers responded with the next two goals when Jake Zemet and Kyle Rullan scored 47 seconds apart to tie the score, 2-2.  The Indians opened up a three-goal lead in the second period getting two goals from Max Jaffe and another from Bernstein, but Rullan scored the second of his four goals midway through the second period. The Indians led at the half, 5-3.
The Indians led 7-5 early in the fourth before Zach Smith got behind the defense and scored to cut the lead to one at 7-6. Moments later Kyle Rullan scored his fourth of the night with a wrap-around to tie the game at 7-7.
In the first overtime, goalies Blake Goodman for Shady Side and Will Rahenkamp for NA made key saves to extend to the second overtime.  North Allegheny fought off a penalty in the second overtime to send the game into the third OT.  Shady Side had an opportunity to win it early but failed to score and that set up the heroics for the Tigers. Rullan ran the right side and the defense collapsed to him and he found a wide open Ted Ednaczyk in front of the goal to beat Goodman for the winner.
In a great team win for North Allegheny, Zach Smith was named the Wright Automotive player of the game for his all-around effort.  Smith won 14 of 18 faceoffs plus was outstanding on the defensive end.
Shady Side will now play Pine Richland in the PIAA play in game on Thursday night while the Tigers will play Mount Lebanon Friday night at 8pm for the WPIAL championship.