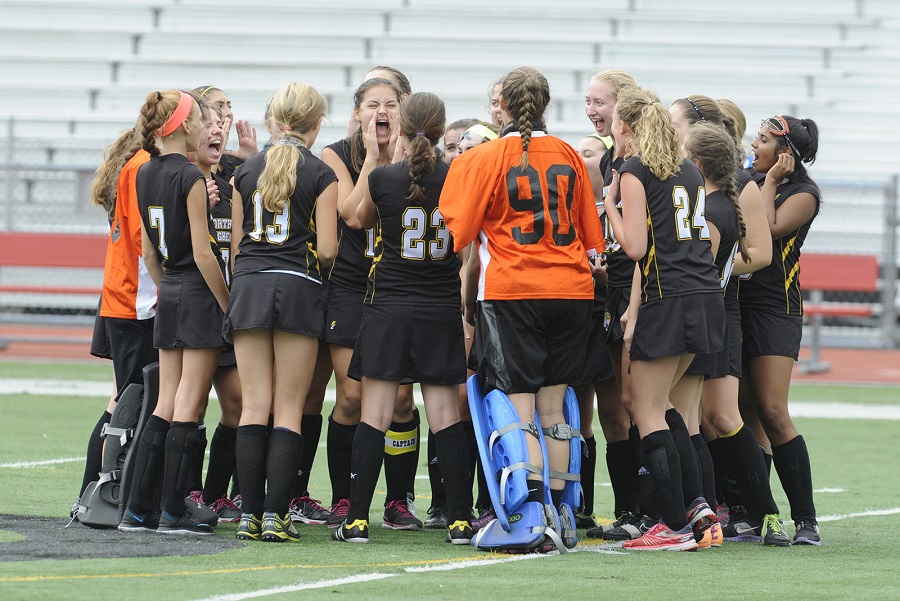 NA Outplays Penn-Trafford For First Victory, 2-0
The North Allegheny Tigers traveled to Penn-Trafford for their first in-section contest and dealt the Warriors a 2-0 defeat on Monday night. It was a perfect evening for field hockey, and the Tigers showed up hungry for their first win of the year.
NA started quickly with senior Maddy Snyder breaking down the Penn-Trafford defense and creating opportunities with some beautiful passes into the circle. NA was determined to end their scoreless streak, and, just 1:11 into the game, the Tigers did just that on a penalty corner when junior Erin Coran pounced on a rebound and scored. The Tigers controlled play in the first half with smart and crisp field hockey. The offense, settling into positioning, was cutting to balls, and consistently getting their shots off. Senior mid-fielder Jessie Serody ignited the NA transition game with her sideline to sideline passing. NA's efforts were enthusiastic, yet they were unable to add to the lead and went into halftime with the score 1-0. For the half, the Tigers clearly had the advantage with seven shots on goal and four penalty corners, while Penn-Trafford was held without a shot on goal and was unable to earn a penalty corner.
The second half started in much the same way, with co-captains Snyder and Serody stepping into their leadership roles, continuing to push the play in the Penn Trafford end of the field. The Tiger defense had room to support the team, with notable presses from senior Olivia Krause and freshman Kayley Cooper. Also stepping up and gaining confidence was junior Gabby Herbert whose 16 yard drives were powerful and strategic. Play was aggressive in the center of the field, and NA was markedly getting the ball wide on the attack and successfully bringing it back into the circle. After a number of good scoring opportunities, and some frenzied play on the goal line, Penn-Trafford goalkeep Christina Bauer got the ball stuck under her pads, and the Tigers were awarded a penalty stroke at the 23:59 mark. Coach Maddy Berkley called on Serody to take the stroke, and she delivered with a swift shot into the right corner of the cage to give the Tigers a 2-0 lead. The game ended with the final score North Allegheny 2, Penn Trafford 0. For the second half, NA registering eight shots on goal and four penalty corners, and like the first half, Penn Trafford did not record any shots on goal nor earn a penalty corner.
The win gives the Tigers a 1-2 record overall and a 1-0 record in section play. North Allegheny plays section opponent Hempfield on Thursday at 7:00 (JV at 5:30) at Newman Stadium. The game will be broadcast live via the internet on the North Allegheny Sports Network.
Field Hockey Summary vs. Penn-Trafford, 9-14-15
| GAME SUMMARY | | | |
| --- | --- | --- | --- |
| SCORE BY HALVES | 1 | 2 | FINAL |
| North Allegheny | 1 | 1 | 2 |
| Penn-Trafford | 0 | 0 | 0 |
Field Hockey Individual Scoring vs. Penn-Trafford
| INDIVIDUAL STATS | | |
| --- | --- | --- |
| FIRST HALF | | |
| North Allegheny | Erin Coran (Maddy Snyder) | 1:11 |
| SECOND HALF | | |
| North Allegheny | Jessie Serody | 23:59 |