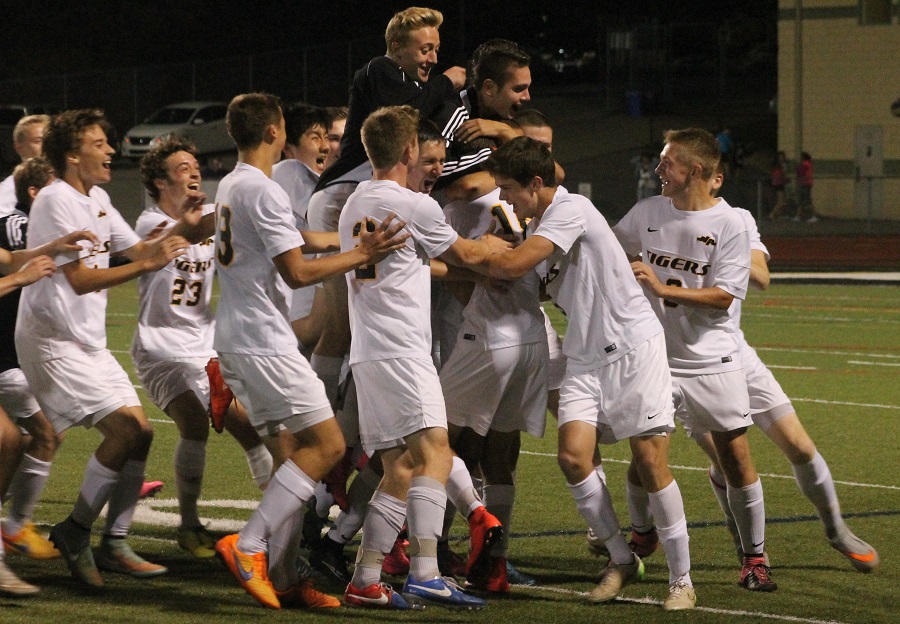 Josh Luchini's Goal Vaults NA To Win In OT
By Boys Soccer Contributor
North Allegheny posted its third consecutive shutout, and fourth in the last five games, with a 1-0 overtime win over Pine-Richland on Thursday night.
With a raucous crowd of over 500 fans in attendance participating in the "Pack the Pitch" event, the Tigers offense started early as Michael Peters crossed a  ball into Josh Luchini at 38:18 that was headed on goal, but the Pine goalie made a diving safe to keep NA off the board.  Less than a minute later, a Luchini free kick found Alex Gill who put another shot on goal that was saved, along with a shot by Jason Earle that was blocked by the athletic Pine defense. Forward James Nolan, at 19:50, also had a header shot on goal that was saved by the Ram goalie keeping the first half scoreless.  North Allegheny had four shots on goal while Pine-Richland didn't register any shots on frame as the Tiger defense continued to stand tall.
The Tigers faithful student section continued to support the home team in the second half and another good chance came at 31:57 when Luchini's free kick found Ben Cinker in front whose header just went wide.  Pine-Richland started to put pressure and shots on the net starting at 26:02 and three other times after, but Tiger senior goalie Josh Krassentein made the saves to keep the game scoreless in regulation.
A Pine-Richland forward, at 08:15 of overtime, shot wide from close range that narrowly ended the game. At 04:58 of the first overtime though, NA sophomore forward Luchini sent the packed house home happy as his blast from 40 yards out eluded the Pine goalie off a feed from Jack Passodelis that found the back of the net for a 1-0 Tigers section victory.
The victory extends an eleven game unbeaten streak and leaves the second-ranked Tigers with a 7-1-2 section record along with their 10-1-2 overall record. The loss drops Pine-Richland to 2-5-4 in the section to go along with a 3-5-5 overall record.  The Tigers are next in action on Tuesday at Shaler at 7:30 pm in another important section game.  Bring a donation of a coat/jacket to the game and your admission will be free.