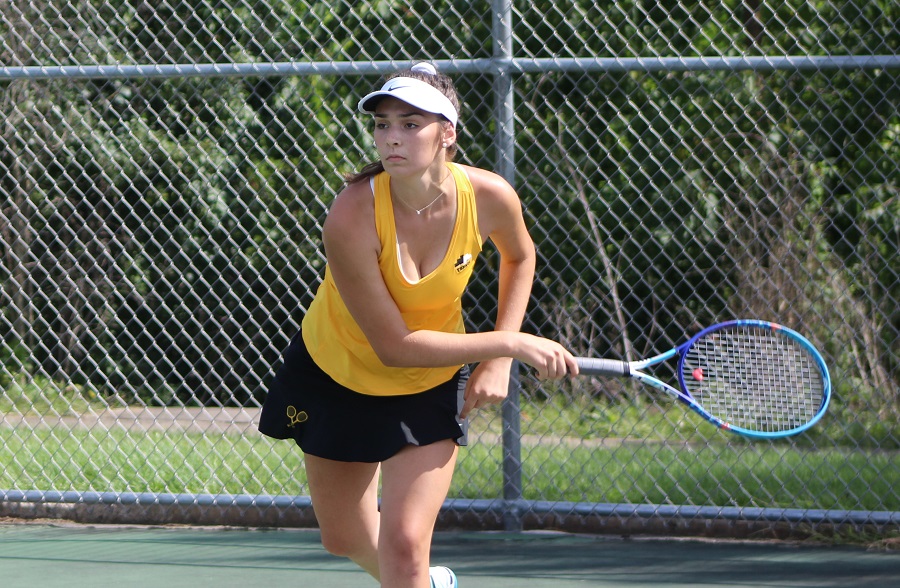 NA Prevails Over Mt. Lebanon For Non-Section Win, 3-2
North Allegheny returned to the win column on Thursday afternoon with a 3-2 non-section victory over the Mt. Lebanon Blue Devils.
The Tigers earned wins in No. 2 and No. 3 singles to help secure the victory. Senior Ella Sinciline notched a hard-fought 6-1, 4-6, 6-2 triumph over Lily Bosch. Junior Jenny Zhu tallied a 6-0, 6-0, sweep over Alexandra Renton.
The NA doubles paring of Claire Shao and Emily Wincko claimed a thrilling win over Bridget Zimmerman and Lucy Hightower by a 6-2, 4-6, 7-5, decision.
With the win, North Allegheny improves to 2-2 on the season. The Tigers will host Howland (OH) on Friday at noon.
Girls Tennis Summary vs. Mt. Lebanon, 8-22-19
Match Summary

NORTH ALLEGHENY - 3
MT. LEBANON - 2
SINGLES
#1
Lauren Masteller (ML) def. Nora Catanzarite (NA)
6-1, 6-2
#2
Ella Sinciline (NA) def. Lily Bosch (ML)
6-1, 4-6, 6-2
#3
Jenny Zhu (NA) def. Alexandra Renton (ML)
6-0, 6-0
DOUBLES
#1
Claire Shao/Emily Wincko (NA) def. Bridget Zimmerman/Lucy Hightower (ML)
6-2, 4-6, 7-5
#2
Katie Strohl/Adele Kramer (ML) def. Abbey Swirsding/Claire Zheng (NA)
6-4, 3-6, 6-1