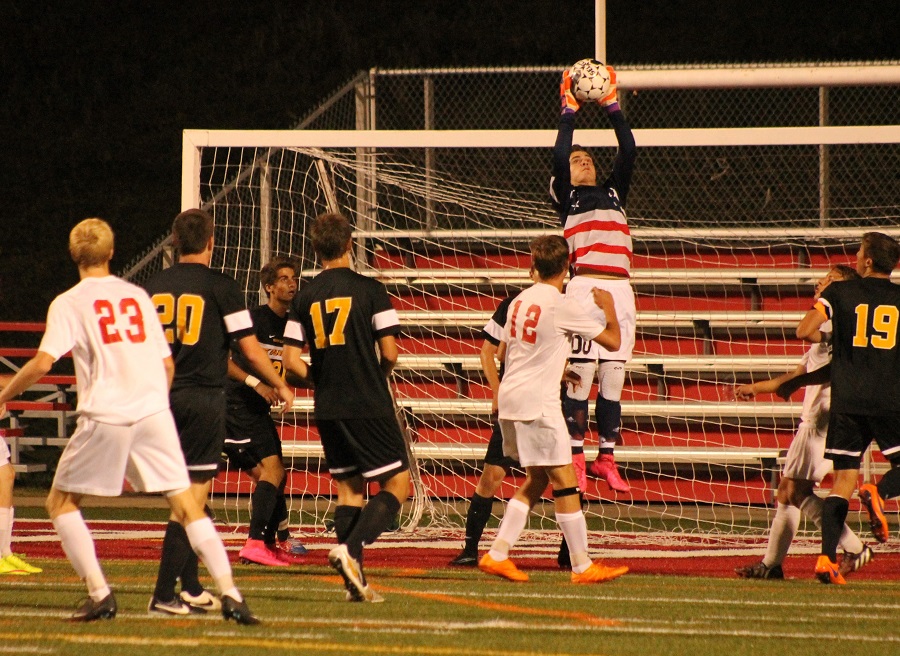 Tigers Snatch Victory At North Hills, 2-1
By Boys' Soccer Contributor
In an early season battle for second place in Section 2-AAA, the North Allegheny Tigers earned an important 2-1 road victory at North Hills on Thursday night.
The game was a seesaw affair from the beginning.  Sophomore goalie Grant Glorioso stole the show early as North Hills pressured the Tigers from the first tip-off and the Indians garnered the first seven shots of the game in the first 30 minutes. Dillon Thoma received a yellow card at 10:48 and somehow the momentum changed in NA's favor. Senior Michael Correa scored on a header at 08:42 off a free kick that was nicely placed by sophomore Josh Luchini and the Tigers led, 1-0.
Alex Goto replaced Thoma for the half and added some quality minutes on the defensive back line, even adding a shot on goal at 0110. The half ended with NA leading precariously, 1-0.  North Hills had eight shots while the Tigers had two, to go along with five corners to the Indians' none.
The Tigers offense took off early in the second half as at 39:08 Luchini hit the post and he kept the ball inbounds. Luchini crossed to Michael Peters who headed it off the crossbar and the score remained 1-0, North Allegheny.  Minutes later, Luchini fed a ball though to Michael Correa running free to the goal, but the Indians goalie and defense were there to make the saves.  At 25:15 Luchini was fouled just outside the box and was awarded a free kick which he used to beat the North Hills goalie inside the post to give NA what looked to be an insurmountable 2-0 lead.
The Tigers started to get sloppy with their passes and clears and at 10:09 North Hills was awarded a penalty kick which they buried making it a tense 2-1 lead for NA.  The Tigers gave the Indians many opportunities via throw ins, corners and free kicks in the last ten minutes, but Glorioso continued to stand on his head and kept the Indians off the board as the final whistle blew for an important 2-1 victory.
The win moves the No. 3 Post-Gazette-ranked Tigers into second place in the section with a 3-1-2 record and overall at 5-1-2. North Allegheny also extended its unbeaten streak to six consecutive games. North Hills drops to 3-3 in the section and 6-3 overall.
This Saturday first place Seneca Valley, the No. 1 ranked team in Western PA and leader in Section 2, travels to North Allegheny for a 10:30 am matchup that should be worth every bit the price of admission.