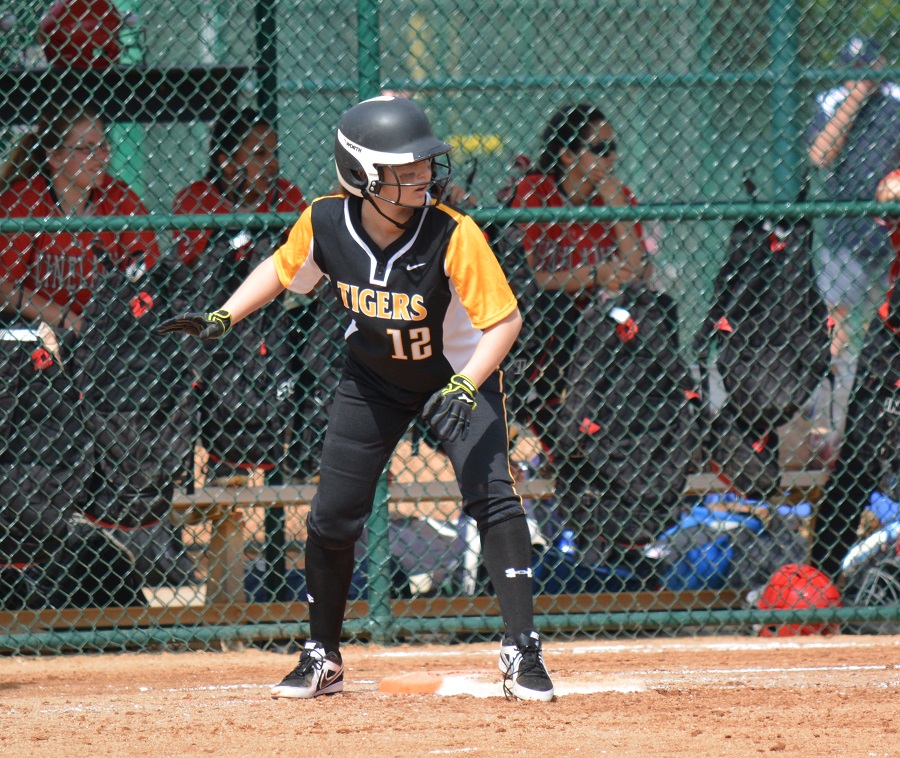 NA Runs Roughshod Over Rams, 9-0
By Lee Mohn
The NA Lady Tigers continued their offensive success on Saturday afternoon by pounding out 14 hits to defeat Pine Richland, 9-0. The Tigers started off slowly, collecting two hits through the first four innings. However, one of those hits was a two out, two-run home run by Casey Ginocchi in the second inning for an early 2-0 lead.  Meanwhile pitcher Madi Beining limited the Rams to only two hits, both coming in the fourth inning.  
NA busted out in the later innings and began to pull away in the fifth. After a pinch hit single by Lacey Hilderbrand loaded the bases, courtesy runner Julia Buffalini scored on an error to make the score 3-0, Tigers.  NA broke the game open in the sixth inning when Hilderbrand struck again.  This time she cleared the bases with a three-run double off the left field fence and scored moments later when Laura Cotter singled to make the score 7-0.  The Tigers closed out the scoring with a two-run single from Emily Hogan in the seventh.  
Coach Rick Meister used his whole bench on Saturday and received plenty of contributions.  Madi Beining collected three hits while Ginocchi had two hits and two RBI's. Hilderbrand was 2 for 2 with three RBI'S.  With her performance, Lacey Hilderbrand was named the Wright Automotive player of the game.
The Tigers improved to 8-2  overall and 5-2 in Section 3-AAAA and will face Howland, Ohio in a non-section game on Monday night.
Line Score - NA Softball vs. Pine-Richland, 4/12/14
| Score by Innings | 1 | 2 | 3 | 4 | 5 | 6 | 7 | | R | H | E |
| --- | --- | --- | --- | --- | --- | --- | --- | --- | --- | --- | --- |
| North Allegheny | 0 | 2 | 0 | 0 | 1 | 4 | 2 | | 9 | 14 | 0 |
| Pine-Richland | 0 | 0 | 0 | 0 | 0 | 0 | 0 | | 0 | 2 | 1 |
WP - Madi Beining (4-1) LP - N/A