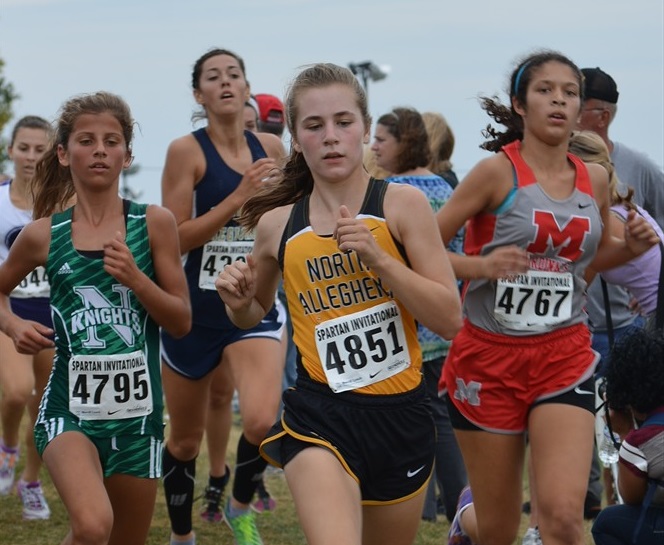 NA Runs Smoothly At Tri-State Meet Ahead Of WPIAL Finals
North Allegheny Cross Country teams traveled to California, PA to compete against the best teams in the Tri-State area for the Tri State Coaches XC Meet.  This race annually serves as a tune-up to the heralded WPIAL Championships which are exactly one week later.

The varsity boys finished in first place and had a dominant performance, scoring an incredible 23 points (average time of 16:44) against a field of 18 AAA teams.  They placed 6 runners in the top 10 on the extremely challenging Cal U 5K XC course.
2    Marc Migliozzi   16:23.18
3    Jacob Stupak     16:23.92
5    Sam Blechman     16:54.18
6    Zack Deible      17:00.28
7    Jacob Greco      17:00.43
9    TJ Robinson      17:05.62
12   Mark Hartigan    17:09.43
The varsity girls fared well against a 24-team field, with an 88 point fourth-place finish (only 38 points away from the first place team). The Lady Tigers had average time of 20:32 on the 5K course.
8    Clara Savchik        19:51.27
15   Ally Meehan          20:24.87
19   Madissen Steiner     20:34.51
20   Kara Daggett         20:46.95
26   Tess Wright          21:06.29
36   Caroline Silay       21:43.61
42   Katheryn Smolinkski  22:04.61
Complete results can be found at http://www.smileymiles.com/2015Results.html

Both teams looked forward to make a good showing at WPIALs next Thursday.