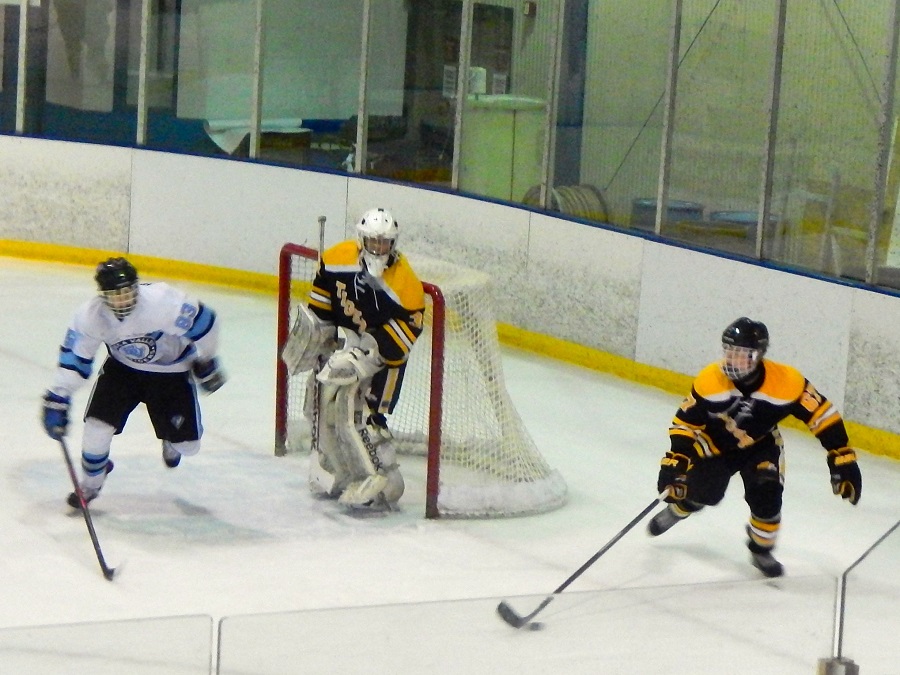 NA Skates Past Seneca Valley In Face Off Atop Section 2
The North Allegheny Ice Hockey team rebounded from back-to-back losses in a big way, dropping the Seneca Valley Raiders, 5-4, on Tuesday night in a battle for the top spot in Section 2-AAA. The Tigers held a one point lead in the standings over the Raiders entering the night and NA provided itself some breathing room by way of the victory. 
The Tigers pounced on Seneca Valley in the first period for a 5-1 lead and held off the Raiders in the remaining two periods.  Despite the NA outburst in the opening stanza it was the Raiders who scored first on an Andrew Gagnon goal just over three minutes into the game. At the 8:00 mark of the period, the NA scoring onslaught began as Gregory Fantaski, Dawson Richard, Michael Kramer, Joseph Zappia and Tyler Wilson provided the Tigers with a flurry of goals and a 5-1 lead. Wilson's goal came on the power play with 17 seconds to go in the period.
Seneca Valley did its best to battle back as Gagnon and Brendan Macfarlane tallied markers in the second period to trim the score to 5-3. With 1:20 remaining in the game, Macfarlane pulled Seneca Valley within one goal of the Tigers with his second goal of the contest.  However, the Raiders rally fell short as North Allegheny held on for the 5-4 victory to sweep the regular season series against their section rival.
In net, Joe Hubert and Bradford Thornburgh split time in net and combined for 21 saves on 25 shots.  SV's Ian Fraer got the nod in goal and made 21 saves on 26 shots.
North Allegheny improves to 9-4-1 on the season and has 19 points atop Section 2.  Seneca Valley drops to 8-7-0 and sits in second place in the section with 16 points. The Tigers visit Peters Township on Tuesday, February 11 at the Iceoplex in Southpointe.  The game will be broadcast live via the internet on the North Allegheny Sports Network.