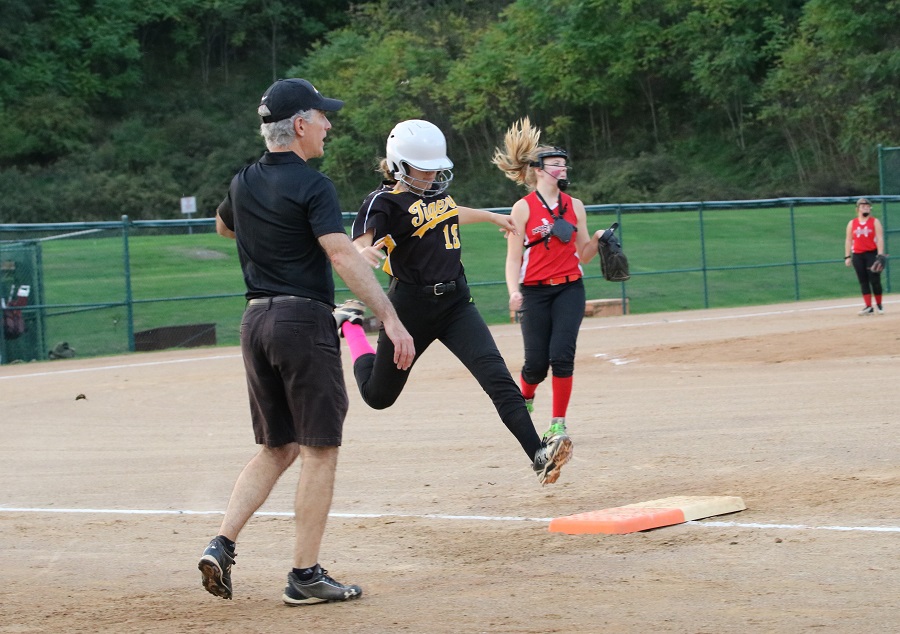 NA Slow-Pitch Falls To North Hills, 10-6
by NA Slow-Pitch Contributor
The North Allegheny slow-pitch softball team dropped a 10-6 decision to the North Hills Indians on Tuesday night.
NA had a strong start at the daunting Herb Field in Ross Township.  Juniors Kenna White and Abby Birch, and sophomore Meg Patterson all hit doubles in the top of the first inning.  Seniors Lindsay Holmes and Jenni Booker also each got an RBI. By the end of this inning, NA had earned four runs. North Hills came back with three runs, but NA was able to keep their lead.  Defensively, both teams were strong with no runs scored until the bottom of the fourth inning.
North Hills hit in two runs, now leading 5-4 over NA. At the top of the sixth inning, White and Patterson both drove in one more run, putting NA back in the lead once more. Unfortunately, a missed or overthrown ball at this field means runs – which is exactly what happened to the Tigers at the bottom of the sixth inning. North Hills scored four more runs in the inning, and NA just wasn't able to regain their lead. Patterson proved to be invaluable in this game with some dramatic catches deep in right field.
With the loss, North Allegheny has a record of 7-6 on the season. The Lady Tigers return to action on Sunday at Montour.