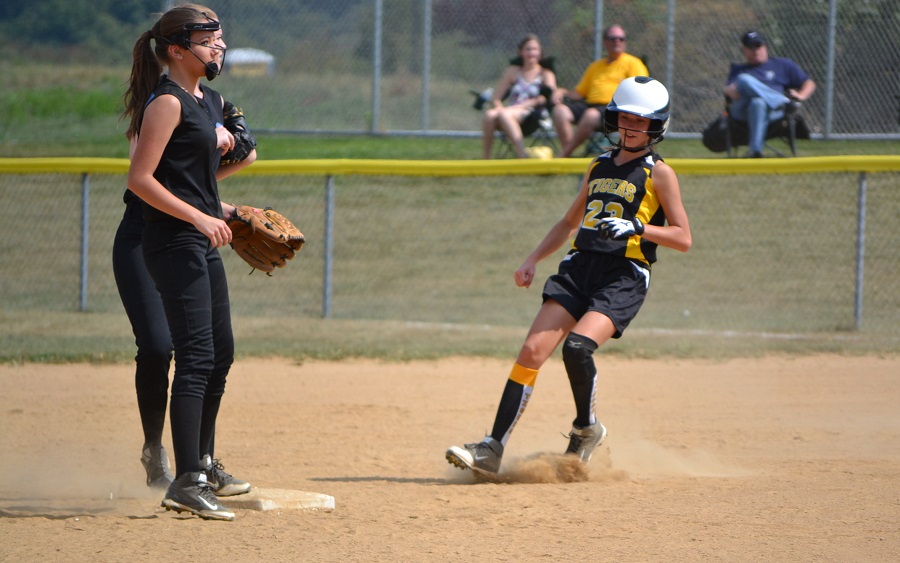 NA Slow-Pitch Splits DH With Seneca Valley
The NA Lady Tigers opened the 2015 season with a doubleheader against Seneca Valley on Monday.  The Lady Tigers opened the bottom of the first inning with consecutive hits from sophomores Rachel Giger and Kayla MacDonald.  Senior Emily Barbus then singled to load the bases. Junior Jordyn Lilienthal delivered a towering grand slam home run to give the Lady Tigers a 4-0 lead, and the Lady Tigers never looked back.  Strong pitching contributions from junior Lacey Stalter and senior Allison Searight assisted in the girls' first win on the season with a final score of 15-11.  Rachel Giger went 4 for 4, Emily Barbus went 3 for 4, and junior Carly Martin also aided in the victory with a home run.  Jordyn Lilienthal finished the game with three home runs, a double, and nine RBI's for the Lady Tigers.
In game two, the Lady Tigers bats continued to sizzle.  Unfortunately, their defense was their weakness, as they fell victim to six errors which proved too much to overcome as Seneca Valley won game two with a final score of 17-16.  NA did their best to come from behind several times.  Seniors Emily Barbus and Julia Buss were a combined 7 for 9 in the game, and contributions from senior Kristen Kovalchik, and her sister junior Carly Kovalchik, aided in the run support.  Continuing where she left off in game one, Junior Jordyn Lilienthal blasted her fourth home run of the day and added four more RBI's to her daily total to finish with 13 RBI's on the day.