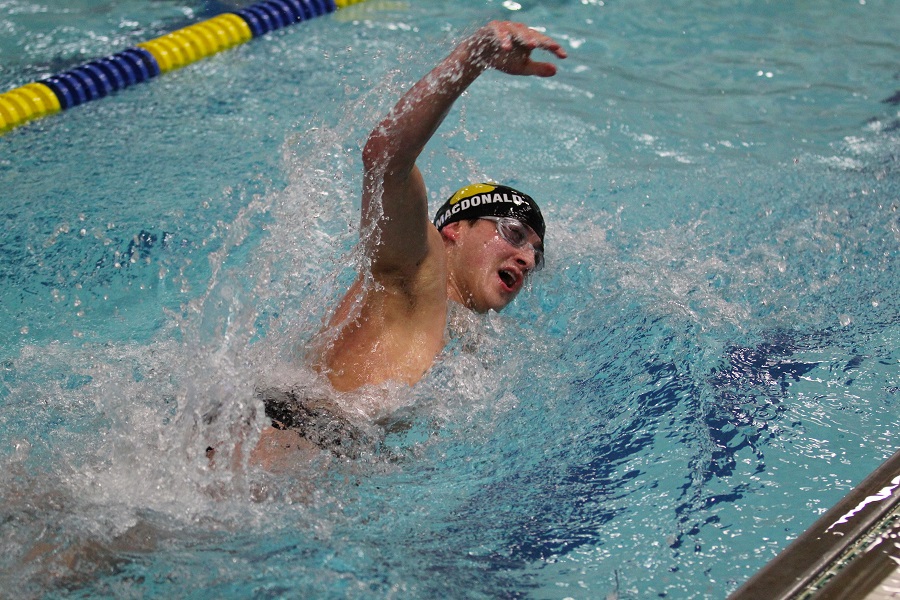 NA Stays Perfect With Sweep of Franklin Regional
Juniors Lauren McGrath, Megan Christy and Anna Verardi each finished first in two individual events as the North Allegheny swimming and diving teams swept a dual meet at Franklin Regional on January 12, 2016.  Both the boys and girls teams remained undefeated in WPIAL competition as the girls won 94-86, and the boys won 105-76. McGrath won the 50-yard freestyle in 24.70 and the 100-yard butterfly in 58.64.  Verardi won the 100-yard freestyle in 55.61 and the 200-yard freestyle in 2:02.36.  Christy won the 200-yard individual medley in 2:16.15 and the 500-yard freestyle in 5:28.25.
McGrath and Verardi also were on the winning 200-yard freestyle relay team, with seniors Taylor McClellan and Katie Wright, which won in 1:43.64. The other first-place finisher in the girls' individual events was senior Gianna Caputo, who won the 100-yard breaststroke in 1:10.69.  Caputo and Christy were both on the winning 400-yard freestyle relay team, with junior Aimee Verardi and junior Ann Juneau, which won in 3:48.08.
For the boys, first-place finishers in individual events were sophomore Andrew Zhang in the 200-yard freestyle (1:51.17); senior Dan Songer in the 200-yard individual medley (2:01.79); sophomore Mason Gonzalez in the 100-yard butterfly (52.54); senior Colin MacDonald in the 500-yard freestyle (5:02.79); junior Max Gonzalez in the 100-yard backstroke (55.05); and junior Eben Krigger in the 100-yard breaststroke.
The North Allegheny swimmers next travel to Wilkes Barre to participate in the six-team All-American Invitational that will be held January 15 and 16.  The divers stay home will host the North Allegheny Diving Invitational at North Allegheny Senior High on Saturday, January 16. For real-time event results during North Allegheny Swimming and Diving meets and other news, follow the team on Twitter at @NATigerSwimming and/or NA Tigers Swim Fan.