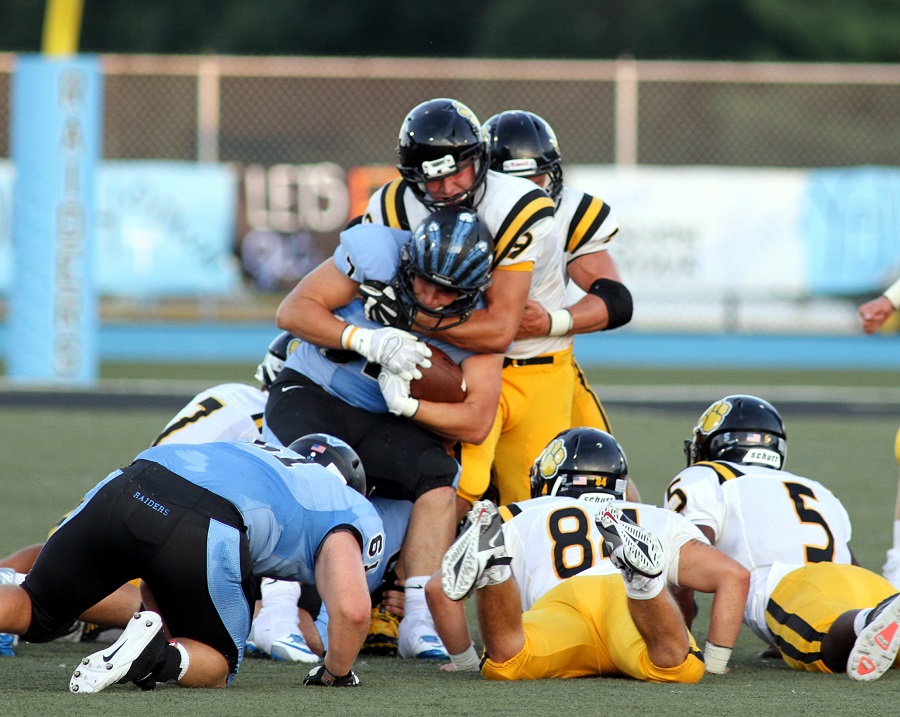 NA Stifles Seneca Valley In Opener, 14-0
by Lee Mohn
The North Allegheny Tigers started off the 2014 season in impressive fashion by defeating Seneca Valley on their home field, 14-0.  The pre-game hype about an offensive show never materialized but had a chance.  Both teams made numerous mistakes in the first half and both teams were held scoreless.
Seneca Valley drove the field on its first possession but two penalties and an interception by Matt Sell in the end zone stopped the drive.  NA ended its first drive the same way when Jeff Clemens was picked off deep in the Seneca Valley end.
Seneca Valley would drive again and another interception ended the possession.  NA took over and Clemens fumbled to end their drive.  Seneca's next drive got down to the NA 15 yard line but a bad snap lost 15 yards and forced a punt.  At the end of the half, the Tigers marched to the Seneca 14 yard line, but with no time outs remaining, a sack by Seneca thwarted the NA drive to keep the game scoreless at the halftime.
It was more of the same in the second half until the Tigers broke the tie in the fourth quarter.  Riley Trueman entered the game at quarterback after a timeout with NA at the Seneca 36-yard line. Trueman threw once and ran three times to get the Tigers down to the 3-yard line. Clemens returned to finish it off with a 3-yard touchdown run to give the Tigers a 7-0 lead with 10:33 to play.
Truman struck again, this time defensively intercepting T.J. Holl in the end zone.  The Tigers continued to pound the ball on the left side with Truman and Clemens and the Tigers finished things off when Clemens scored on an 8-yard run to make the score 14-0 with 1:59 to play.
Jeff Clemens was named the Wright Automotive player of the game.  He ran for 119 yards and threw for 167 yards.  Riley Truman would add 7 carries for 45 yards.
Defensively Layne Skundrich and Zech Nachazel added eight tackles each.  The big stat of the game was Seneca Valley was 0 for 6 in the red zone.  On a sour note, Seneca Valley's quarterback, T.J. Holl, left the game late on crutches and with ice wrapped around his right knee.  No word on the seriousness of the injury.
The 1-0 Tigers will now take on Pine Richland in the home opener next week. You can hear the game live here on the North Allegheny Sports Network.