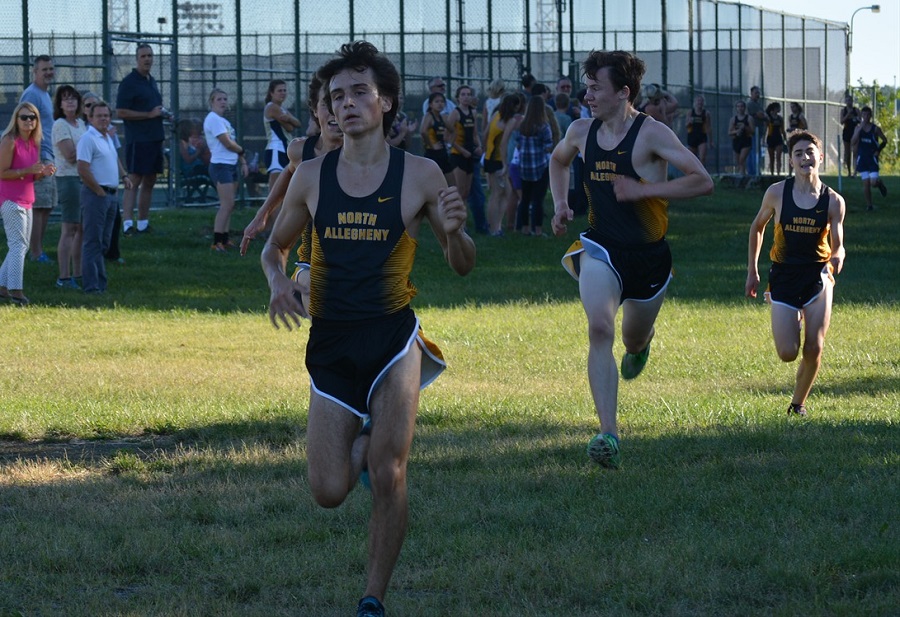 NA Sweeps Mars, Pine-Richland In Section Tri-Meet
The North Allegheny Tigers traveled to Mars on Tuesday to compete against section rivals, Mars and Pine Richland.  Both teams came away 2-0, maintaining their undefeated section record.  The boys won, 24-35, against the Fighting Planets and, 19-24, against the Rams.  The girls beat Mars, 17-44, and Pine Richland, 22-37.
Pacing the Lady Tigers once again was Clara Savchik who cruised to an easy victory with a time 19:04.  Ally Meehan and Tess Wright finished third and fourth in the race.  Ally Christy was the next Tiger across the line (sixth overall) and Janet Wang, Tess Christensen, Selin Cetin, and Tess Majewski rounded out the scoring for the team.
In the boys' race, Mark Hartigan led all Tigers, placing second overall in the race.  A pack of Tigers came in shortly after taking spots 5-8.  That pack included Max Micucci, T. J. Robinson, Clark Smith, and Joe Bojarski.  Rounding out the scorers was Christian Parreaguirre and Ben Graziano.
The Tigers next and final section meet is Tuesday at Hartwood Acres against the Seneca Valley Raiders and Hampton Talbots.