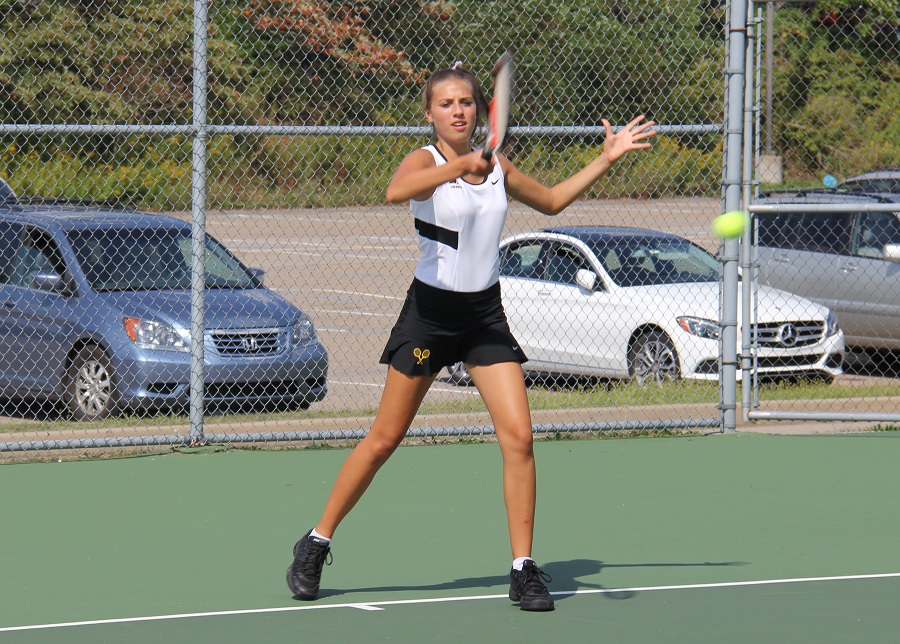 NA Sweeps Seneca Valley, 5-0
The rain forced Monday's contest indoors but it did not put a damper on the play of the Lady Tigers as North Allegheny upped its winning streak to ten in a row with a 5-0 win over Seneca Valley. The match at Pure Athletex was lopsided with 6-0, 6-0, sweeps at #1 and #2 singles courtesy of Anna and Tina Li. Freshman Ashley Huang earned a 6-0, 6-1, victory over Sabrina Dunlap at #3 singles.
In doubles play, Tristyn Maalouf and Eugenia Lee swiftly defeated Cylie Arohnson and Allison Brazer, 6-0, 6-0. At # 2 doubles, Julie Choe and Erica Canella defeated Aubrey Stanchack and Hollen Davinsizer, 6-3, 6-1.
With the win, North Allegheny improves to 11-1 overall and 8-0 in the section. NASH will host the Section 2-AAA doubles tournament on Tuesday.
Girls Tennis Summary vs. Seneca Valley, 9-28-15
Match Summary

NORTH ALLEGHENY - 5
SENECA VALLEY - 0
SINGLES
#1
Anna Li (NA) def. Allie Head (SV)
6-0, 6-0
#2
Tina Li (NA) def. Kerry Shults (SV)
6-0, 6-0
#3
Ashley Huang (NA) def. Sabrina Dunlap (SV)
6-0, 6-1
DOUBLES
#1
Tristyn Maalouf/Eugenia Lee (NA) def. Cylie Arohnson/Allison Beaver (SV)
6-0, 6-0
#2
Julie Choe/Erica Canella (NA) def. Aubrey Stanchak/Hollen Davinsizer (SV)
6-3, 6-1