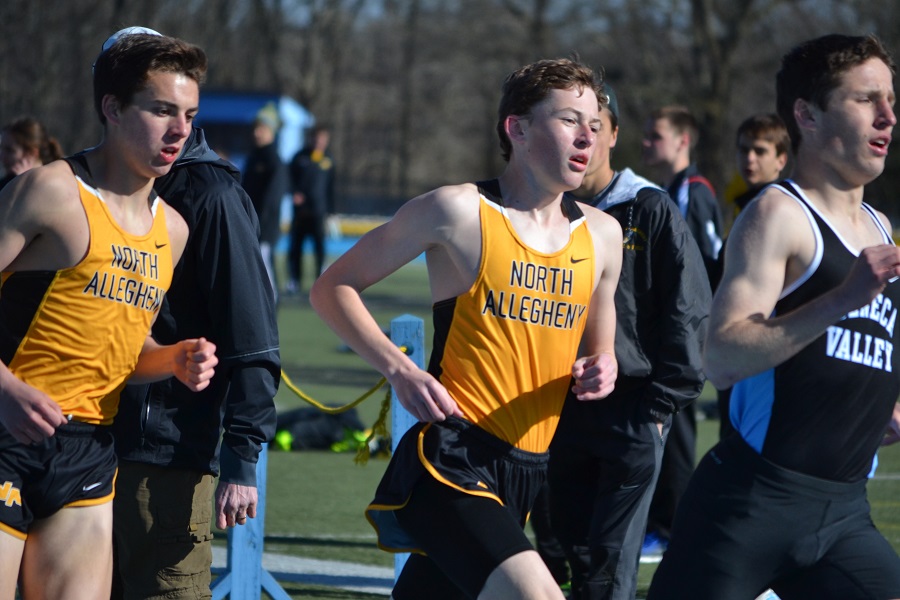 NA Track & Field Earns Split With Seneca Valley
The Tigers traveled to Seneca Valley in the season's first sectional showdown.  The Boys' team powered their way to a victory and toppled the Raiders, 86.5-63.5.  Winning performances on the track came from Ayden Owens in the 110m High Hurdle race and the 400m, Marc Migliozzi in the 3200m, and the 4x400m Relay team of Chip Dougherty, Devon Angermeier, Christian Perreguirre and Caleb Schaelchlin.  Ihjad Bonner and Evan Mee outjumped their opponents in the High Jump and Long Jump, respectively.
It came down to the final event of the night to determine a winner with the girls competition.  The Raiders were able to hold on to their lead and handed the Lady Tigers' their first loss of the season, 79-71.  Jolene Yon was able to post double wins in the High Jump and Long Jump while Morgan Treser secured her first victory in the Shot Put.  On the track, Melina Owens won the 100m Hurdle race and Autumn Baldwin outleaned her Raider rival and won the 100m Dash by the narrowest of margins.   Senior Josie Landis powered her way to victory in the 300m Hurdles and Clara Savchik won the 3200m.
Both teams will travel and compete against their second sectional rival on Monday at Butler.  Meet is scheduled to start at 3:30.