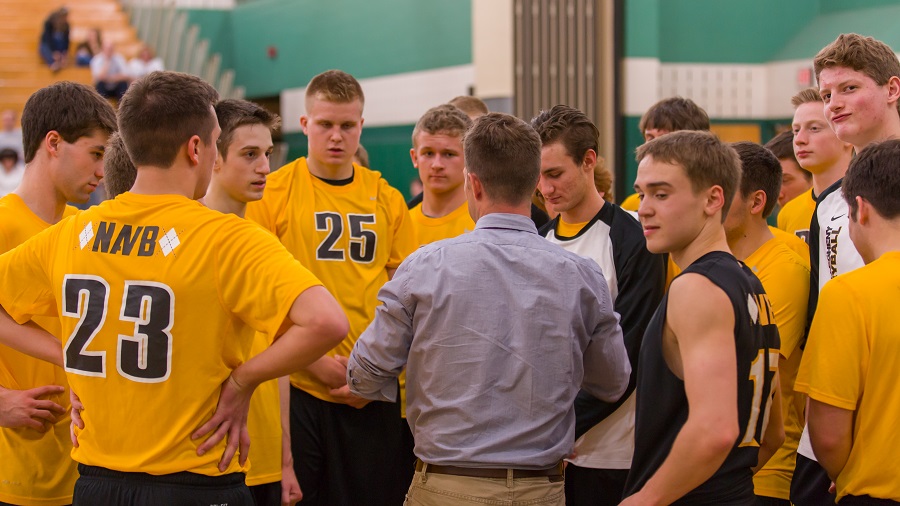 NA Volleyballers Edge Ambridge In Regular Season Finale
By Lee Mohn
The North Allegheny Tigers won their final regular season match Friday night defeating three-time defending Class AA champion Ambridge, 3-2.  It was senior night but freshman Canyon Tuman stole the show.  He finished with 16 kills and 5 blocks to lead the Tigers to victory. The Tigers jumped out to a 4-1 lead in the first game but the Bridgers would score the next six points to take control and never look back winning, 25-20. Jordan Lake had a couple of kills and a block for the Tigers.
In game two, Ambridge made numerous unforced errors and the Tigers improved their net presence and won 25-14. Robert Stiefvater and Nikola Topich were keys in game number two.  Ambridge would win game three, 25-19, but the Tigers  built a 16-9 lead in game four before Ambridge came back and tie it at 17-17 before Tuman, Topich, and Stiefvater ended the game with kills. Stiefvater and Tuman each had five kills in game five for a 15-10 victory.  Also playing very well as Ethan DeRubbo with numerous pancake digs on the night.  Our Wright Automotive player of the game went to Canyon Tuman.
The Tigers now await the playoff brackets which will be announced on Monday.