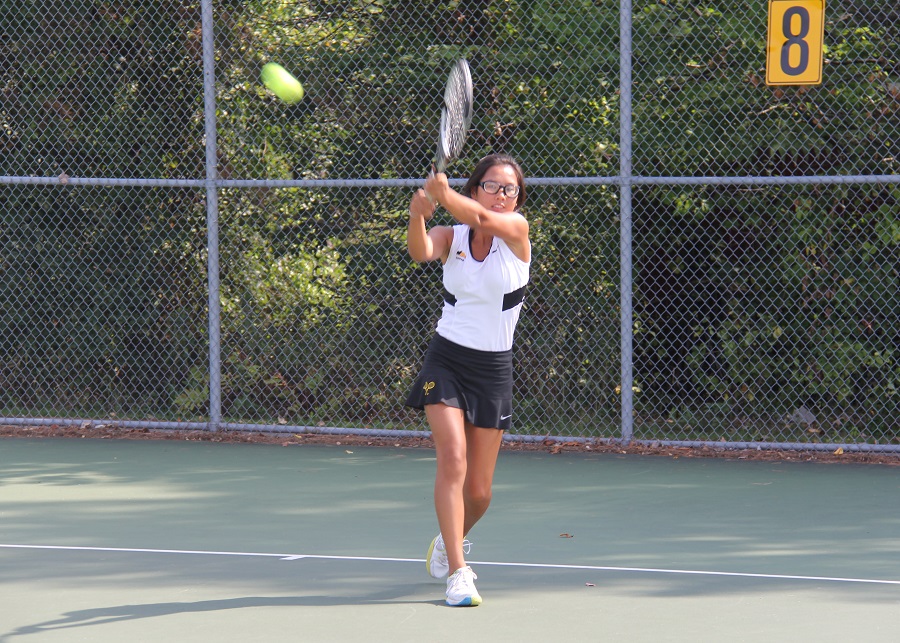 NA Wins Seventh Straight
Rolling to a seventh straight victory, the North Allegheny girls' tennis team punished the Peters Township Indians with a 5-0 triumph on Thursday afternoon. Fresh off her section singles championship on Wednesday junior Anna Li defeated Megan Hixon, 6-1, 6-0. At #2 singles, Tina Li earned a hard fought win over Anna Komer, 5-7, 6-0, 6-3. Freshman Ashley Huang topped Alex Garcia at #3 singles, 6-2, 6-2.
In doubles action, Eugenia Lee and Tristyn Maalouf downed Allie D'Orazio and Katie Smart by a score of 6-2, 6-0. Seniors Elena Kolano and Julie Choe teamed up to beat Carla Goldsmith and Hannah Asbell, 6-4, 6-1.
With the non-section win, North Allegheny leaps to 7-1 overall and will host Sewickley Academy on Friday afternoon at 3:30 pm.
On Wednesday, Anna Li won the Section 2-AAA singles title with a 6-4, 6-1 victory over her sister, Tina Li. It was the second straight section singles crown for Anna Li. The siblings both qualify for the WPIAL singles tournament next week.
Girls Tennis Summary vs. Peters Township, 9-17-15
Match Summary

NORTH ALLEGHENY - 5
PETERS TOWNSHIP - 0
SINGLES
#1
Anna Li (NA) def. Megan Hixon (PT)
6-1, 6-0
#2
Tina Li (NA) def. Anna Komer (PT)
5-7, 6-0, 6-3
#3
Ashley Huang (NA) def. Alex Garcia (PT)
6-2, 6-2
DOUBLES
#1
Tristyn Maalouf/Eugenia Lee (NA) def. Allie D'Orazio/Katie Smart (PT)
6-2, 6-0
#2
Elena Kolano/Julie Choe (NA) def. Carla Goldsmith/Hannah Asbell (PT)
6-4, 6-1