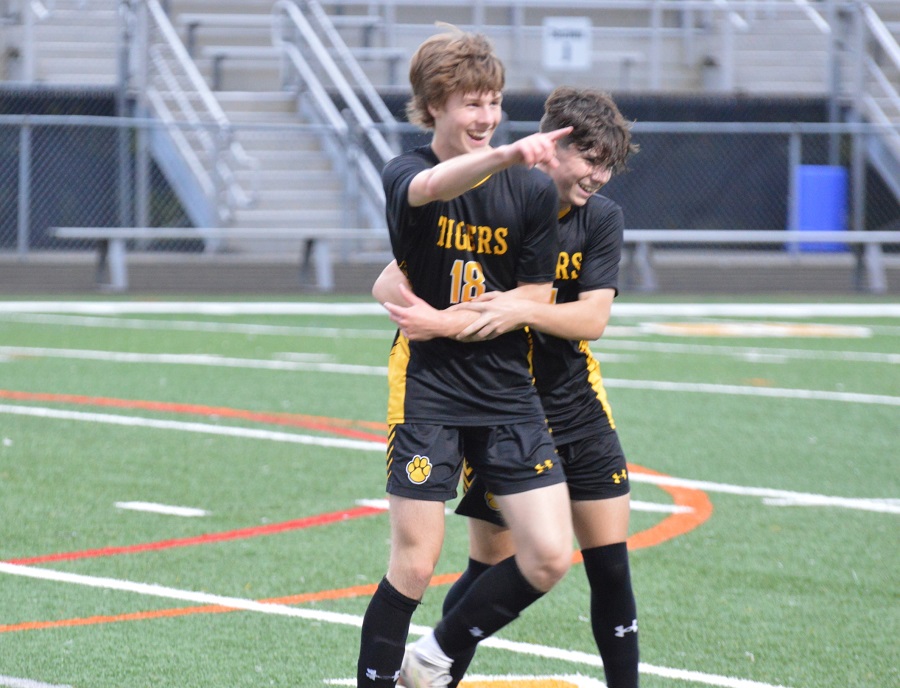 6-1 Win Over Shaler Directs Way To 12th Straight Playoff Berth
By Jared Barton
For the 12th consecutive season, the North Allegheny Boys Soccer program is headed to the WPIAL Playoffs. The Tiger clinched the postseason berth with a 6-1 victory over the Shaler Titans at Newman Stadium Thursday evening.
NA wasted little time getting on the board, as junior Ben Christian took a shot 20 yards out in the offensive zone that found the top right corner of the Shaler net with 35:41 left in the first. The off-speed shot surprised Shaler goalkeeper AJ Ravas. About 10 minutes later, the Tigers lined up a corner kick from the far flag. Senior Brandon Marzula centered a line drive pass to the feet of senior Evan Anderson, who tipped the ball in for a 2-0 lead.
With about 18 minutes to play in the half, senior Andre Ennis was fouled deep in the offensive end and awarded a penalty shot. His shot was blocked away by Ravas, who made six saves in the contest.
The Tigers stormed out of the gate in the second half with more offense early. Anderson took the ball away in the NA offensive zone and deked out the Shaler netminder to make it 3-0 with 36 minutes left. Four minutes later, Ben Christian fed junior Gabriel Gotz who took a turning shot from 15 yards out to extend the lead to 4-0.
The Titans found life when senior Colin Bork sent a shot deflecting off the back of an NA defender and past Dante Accamando with 9:45 remaining. The Tigers responded just two minutes later, when Kevin Luo bounced a pass off a Shaler player that found twine, extending the lead to 5-1.
Marzula added a goal on a free kick from 35 yards out with just 35 seconds remaining to make it a 6-1 game.
Christian earned Wright Automotive Player of the Game honors with his two-point performance.
North Allegheny extends its current winning streak to five games, and now has a 9-3 overall record (7-3 in section play.) The Tigers are back in action Saturday for a non-conference matchup against Hampton on the road.