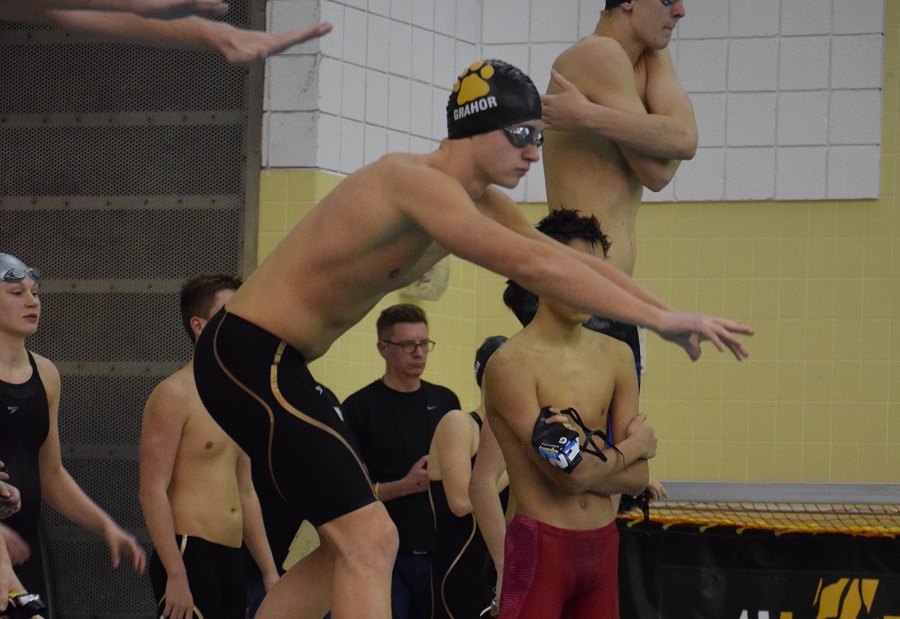 New Pool Records Set on Alumni Night Against USC
Three pool records were set by the North Allegheny Swimming and Diving Team in front of a packed crowd against the Upper St. Clair Panthers during Alumni Night.  The NA girls won with a score of 106-72, while the NA boys got the victory with a score of 108-70.
The girls started off the meet with a sweep of the 200 Medley Relay, with the team of Torie Buerger, Molly Smyers, Ella Ogden and Quinn Frost touching first.  Five out of the next 6 events were taken by the NA girls.  Frost finished first for the 200 IM, Buerger sprinted to a win for the 50 Free, Ogden set a new pool record for the 100 Fly, Alexa Sundgren won the 100 Free and Smyers took the 500 Free.  The team of Olivia Kraus, Frost, Sundgren and Smyers went on to win an exciting race for the 200 Free Relay.  The individual events were finished off with wins by Buerger on the 100 Back and Olivia Kisow on the 100 Breaststroke.The girls then capped the meet off with a win and a new pool record for the 400 Free Relay, for Smyers, Sundgren, Ogden and Buerger.
The boys began the meet with a win of the 200 Free Relay, swum by Rick Mihm, Jacob McCarran, Branko Kosanovich and Alex Grahor. The next 6 events were all won by our boys.  Josh Galecki was a double winner for the 200 Free and the 100 Free, Mihm set another pool record for the 200 IM and took the 500 free, Grahor dashed to take the 50 Free, and Kosanovich glided to win the 100 Fly.  Galecki, McCarran, Matthew Turzai and Kosanovich finished strong and owned the 200 Free Relay.  Ethan Song then got the 100 Back.  The boys' team of Mihm, Galecki, Grahor and Kosanovich ended the night by convincingly taking the 400 Free Relay.
The NA divers also finished strong tonight.  The girls had a 1-2-3 finish, with Christina Shi winning first, Zoe Ky taking second and Maya Ennis getting third.  The boys had a strong performance as well, with Will Schenk finishing first and Lucas Rogers taking third.
Next up is a travel meet on January 4, 2020, the Bucknell Invitational, at Bucknell University.  The meet starts at 10:30 a.m.