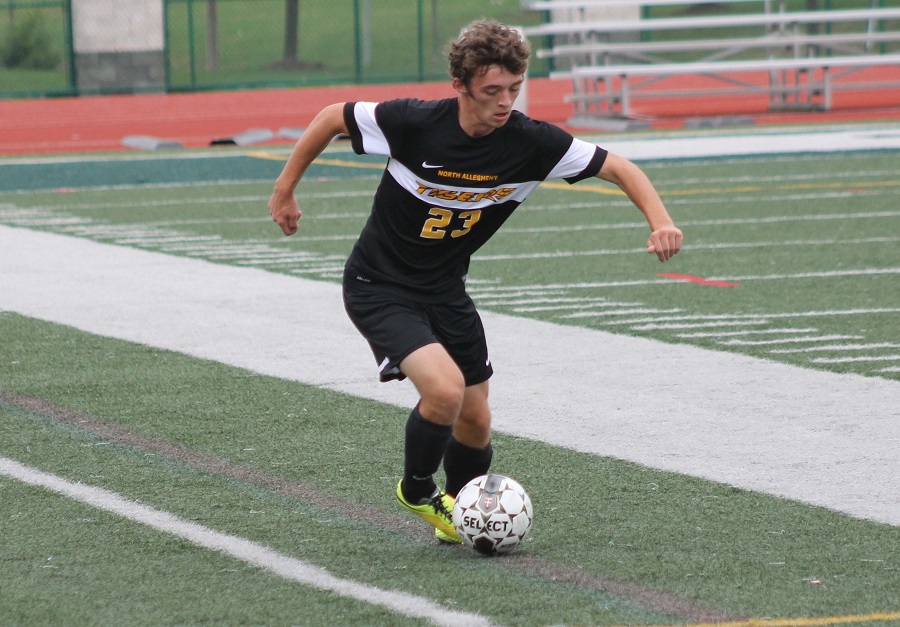 No. 1 Tigers Defeat Class AA's Top-Ranked Planets, 1-0
By Boys' Soccer Contributor
The North Allegheny boys' soccer team edged the Mars Planets, 1-0, in a tough tune-up game prior to the WPIAL playoffs on Tuesday night.
It was an intriguing matchup as the No. 1 ranked Class AAA team, North Allegheny, squared off against the No. 1 ranked Class AA team in Mars in a regular season finale for both teams.  Action started early as Mars put a shot on senior goalie Josh Krassenstein that was saved from 15 yards out at 38:46.  Josh Luchini, off a cross from Michael Correa at 3820, had his shot just go wide. Krassenstein again made saves at 25:12, 20:42 and 18:02 while the Tigers could only muster an additional shot on goal by Nate Hall at 14:12 with the half ending in a 0-0 deadlock.  Mars had four shots on goal while the Tigers had only one along with three unsuccessful corners.
The second half started with another Tiger save at 36:32, but at 30:36, NA sophomore Stanley Owens was taken down in the box and awarded a penalty kick.  Nick Thornton took the kick but his shot was pushed wide by the Mars goalie, keeping the game scoreless.  Again at 2601, Krassenstein made another save and shortly thereafter Ben Cinker's header off a Luchini pass was saved by the Planets goalie.  Mars kept the pressure up as shots on goal were taken and saved at 23:22, 19:24, 8:04 and again at 2:33 in regulation, keeping the game tied.
In the first overtime period Mars had a close-range shot saved by Krassenstein at 3:22 and another shot hitting off the post, but out of harm's way. Minutes into the second overtime period, a Mars forward had a breakaway but a bad touch turned the ball over to the NA goalie.  At 5:41, Jason Earle passed over the Mars defense which Luchini raced down, chipped the ball to a streaking Owen Leonard who buried it in the back of the net for his second goal of the season while giving the Tigers a thrilling 1-0 double overtime road victory.
North Allegheny concludes their regular season with an impressive 13-1-3 overall record and awaits their WPIAL AAA playoff seeding that will be announced this Wednesday on MSA Sports.