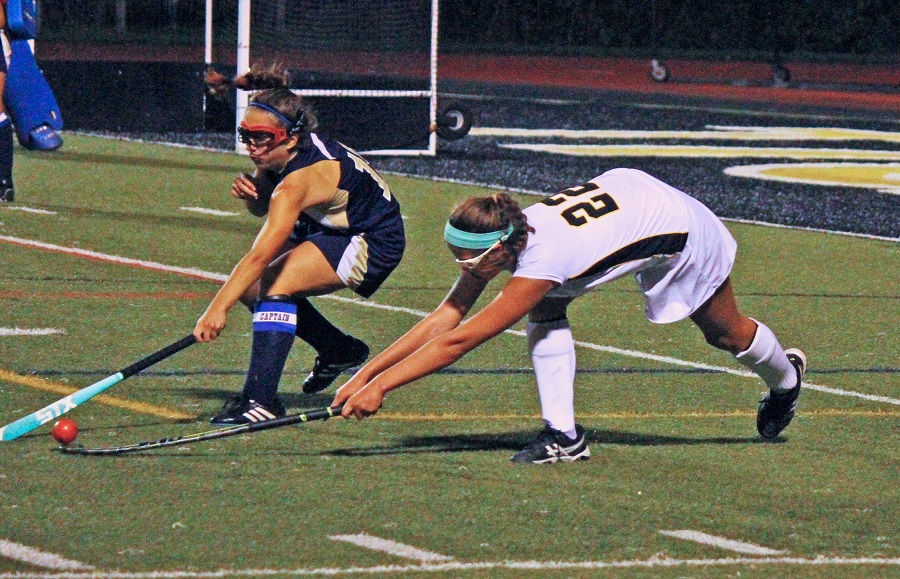 No Win For Norwin As Tigers Continue Section Streak
Newman Stadium was the backdrop for a key WPIAL Section 1-AAA contest when the Norwin Knights dueled with the North Allegheny Tigers. First place was on the line with both teams entering the game undefeated in section play and the Tigers came away with a 2-0 victory to maintain the top spot in the section standings.
North Allegheny consumed the first ten minutes of play, putting Norwin against the ropes and refusing to yield. Junior forward Brooke Cameron and senior forward Maddy Snyder spearheaded plenty of opportunities in the circle, while senior Catie Kelly with her dominating presence on defense, thwarted any transition attempts by the Knights. Working the left side in front of Kelly was freshman midfielder Bridget Russell, who showed promise with her agility and skill. NA's persistence created several penalty corners early, and NA finally capitalized at 9:43 as Cameron inserted cleanly to senior midfielder Jessie Serody who rocketed a shot that was tipped just as powerfully by Snyder into the net. The "shot heard 'round the stadium" was a thrill to the crowd. The Tigers were able to capitalize on another penalty corner at 24:10, with a well-executed tactical corner that took advantage of the player differential. Cameron delivered another clean ball to Kelly who passed back to Cameron, with a final cross to Serody who buried it into the back of the cage from around the penalty stroke mark. The first half statistics revealed the extent to which NA controlled the action as they had 10 penalty corners and seven shots on goal while Norwin did not have any penalty corners or shots on goal.
Just as it appeared the field was tilted in the first half, the second half started the same way, except this time it was Norwin directing the game. The Knights played the second half with a sense of urgency and had NA on its heels early on. The assured efforts of freshman defender Kayley Cooper who confidently stepped up to tackle and regain possession for North Allegheny helped the Tigers get back on track. Senior midfielder Maddie Birmingham's assertive play took the steam out of the Knights' efforts. Despite their possession advantage, Norwin could only generate a small amount of offense in front of the net. The final score ended North Allegheny 2 – Norwin 0. For the second half, NA had one penalty corner and 4 shots on goal while Norwin had two penalty corners but failed to register any shots on goal.
The win was an emotional victory for the girls, who saw two starting junior players, forward Erin Coran and defender Lily DeNoma out with season ending injuries early in the week. The Tigers improved to 3-4 overall and 3-0 in section play after the win. Their next game is at Newman Stadium on Saturday as they host Novi (Michigan) at 12:30 pm.
Field Hockey Summary vs. Norwin, 9-24-15
| GAME SUMMARY | | | |
| --- | --- | --- | --- |
| SCORE BY HALVES | 1 | 2 | FINAL |
| Norwin | 0 | 0 | 0 |
| North Allegheny | 1 | 1 | 2 |
Field Hockey Individual Scoring vs. Norwin
| INDIVIDUAL STATS | | |
| --- | --- | --- |
| FIRST HALF | | |
| North Allegheny | Maddy Snyder (Jessie Serody) | 9:43 |
| SECOND HALF | | |
| North Allegheny | Serody (Brooke Cameron) | 24:10 |