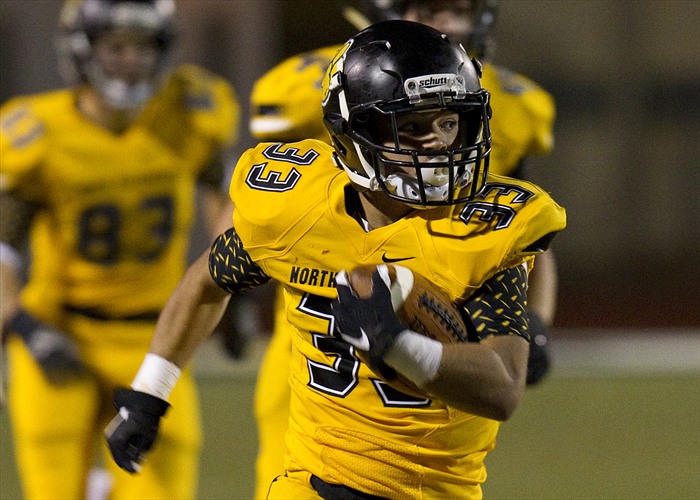 Olentagy Liberty Edges NA At Football Classic, 30-29
Senior quarterback Brandon White scored on a 1-yard touchdown run with 18 seconds remaining and completed a pass to Johnny Wiseman moments later on a two-point conversion that lifted Olentangy Liberty to a 30-29 comeback victory over the North Allegheny Tigers in the 2016 season opener. The Ohio State recruit rushed for 126 yards and two touchdowns, while passing for 160 yards and another touchdown, in the Patriots win at the first annual Western Pennsylvania Legends Football Classic at Newman Stadium on Friday night. It was the Tigers' first loss in an opener since 2008.
In a game that featured five lead changes, North Allegheny struck first and marched 68 yards on the season's opening possession and capped the drive on a 5-yard touchdown run by senior quarterback Ethan Maenza for a 7-0 lead. After Olentangy Liberty was stonewalled on its first drive on a fourth down at the Tigers 3-yard line, North Allegheny was called for an intentional grounding penalty in the end zone that resulted in a safety that cut the score to 7-2.
On the first drive the of the second quarter, the visitors from Columbus, Ohio drove 60 yards in five plays and took an 8-7 lead on a 13-yard touchdown run by White. The two-point conversion attempt failed. The slim lead for Olentangy Liberty was short-lived as North Allegheny scored on its ensuing possession thanks to a 16-yard touchdown pass from Maenza to Niko Mermigas. The Tigers converted on its two-point conversion on completed pass from Luke Trueman to Maenza for a 15-8 lead with 8:15 to play in the second quarter.
The Tigers added on to the lead with 8:53 remaining in the third quarter when Maenza tossed a touchdown strike to Mermigas from 31 yards out for a 21-8 lead. NA's extra point attempt was blocked following the touchdown.
Olentangy Liberty responded with an 11-play, 69-yard drive that culminated on a 10-yard touchdown pass by White to Johnny Wiseman with 4:51 remaining in the third quarter to trim the score to 21-15, Tigers. On the opening play of the fourth quarter, the Patriots used a trick play to take the lead. White lateraled the ball to Wiseman who heaved a 45-yard touchdown pass to Ben Roderick for a 22-21 advantage.
With 7:16 left in regulation, Maenza raced to the end zone on a 25-yard touchdown run to pull NA ahead again, 27-22. The Tigers connected on the two-point conversion when Andrew Turzai made a spectacular catch on a Trueman pass for a 29-22 lead. Maenza, who finished with 117 yards rushing and 140 yards passing and four total touchdowns, was named the Wright Automotive Player of the Game.
After both teams exchanged possessions, Olentangy Liberty had time for one last drive with 3:13 left in regulation. Faced with a 3rd and 27 at the Patriots own 29-yard line, White dumped off a screen pass to Will Fowler who raced 26 yards to set up a critical 4th and 1 at the NA 45-yard line. White toted the ball 25 yards on the fourth down play to the Tigers 20-yard line. Four plays later, White scored on a 1-yard touchdown run with 18 seconds left and followed the two-point conversion pass the vaulted  Olentangy Liberty to victory.
Football Summary vs. Olentangy Liberty, 8-26-16
| GAME SUMMARY | | | | | |
| --- | --- | --- | --- | --- | --- |
| SCORE BY QUARTERS | 1 | 2 | 3 | 4 | FINAL |
| Olentangy Liberty | 2 | 6 | 7 | 15 | 30 |
| North Allegheny | 7 | 8 | 6 | 8 | 29 |