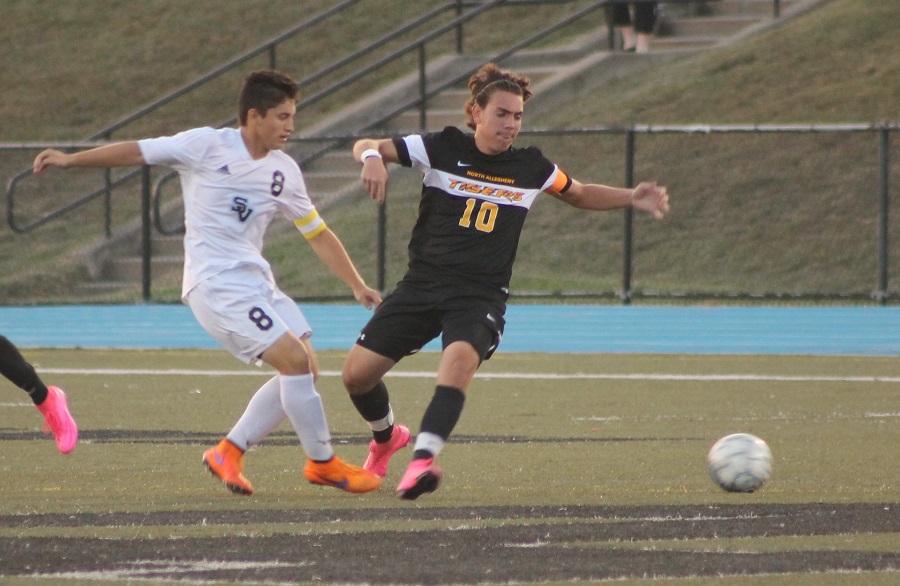 Raiders Stop Tigers In Hard Fought Contest, 3-0
By Boys Soccer Correspondent
In a highly anticipated early season Section 2-AAA contest, the Seneca Valley Raiders outlasted North Allegheny 3-0 at NexTier Stadium on Tuesday night. Despite the loss, there was plenty of positive to gain from the game.
At 34:22, on the first shot of the game, Raiders midfielder Griffin Matthew put a well-placed shot past NA goalie Grant Glorioso from 20-yards out to make it 1-0, Seneca Valley.  A few minutes later, the Tigers nearly tied the game but Nate Hall just missed wide on a cross from Josh Luchini. However, at 27:43 on a defensive pass back, Seneca forward Matt Happ stole the ball and converted on the breakaway making it 2-0, Raiders. Glorioso made two crucial saves minutes later to keep the Tigers within striking distance.  Glorioso's saves seemed to give NA life as Ben Cinker, Sean Atwater, Luchini and Alex Gill all had opportunities that either just missed frame or was saved by the Seneca Valley goalie. With just over a minute left to play in the half, Happ again made a nice offensive move and scored making it 3-0 at halftime.
North Allegheny came out determined in the second half and were winning the contested balls and moving the ball around generating shots by Luchini and Michael Peters.  Reserves James Nolan, Owen Leonard, Atwater, Cinker and Roman Rainville, along with the defensive line, continued to put pressure on the Raiders the whole half. With 36 seconds left in the game, Peters hit the cross bar from close range but the ball harmlessly bounced out preserving the shutout for Seneca Valley, but not without leaving with respect from the home team.
The Tigers next game is slated for Thursday September 10th vs Hampton in another important early season section game. The contest will be broadcast live via the internet on the North Allegheny Sports Network.