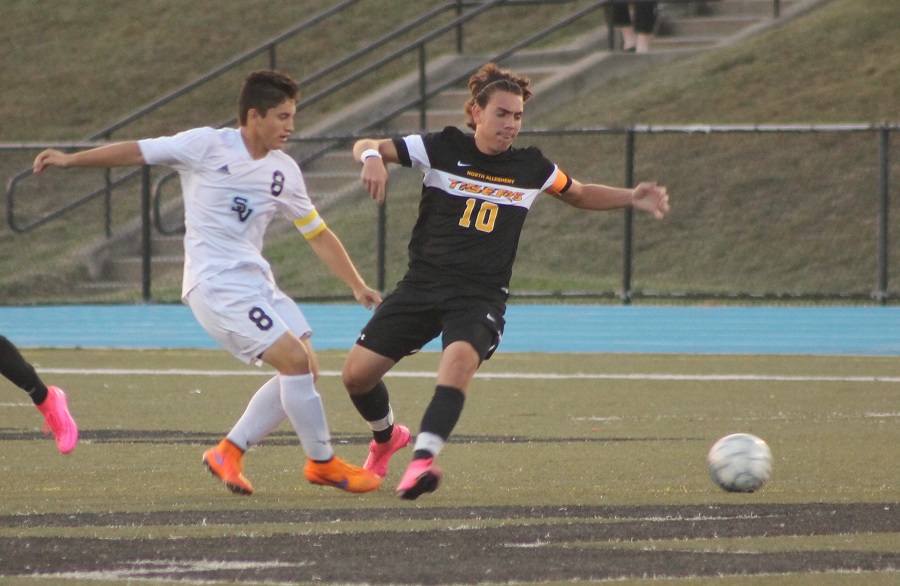 Second-Ranked Tigers Topple Titans, 4-1
By Boys' Soccer Contributor
The second-ranked North Allegheny Tigers bested the Shaler Titans on Tuesday night by a 4-1 decision in a Section 3-AAA contest.
It didn't start pretty for NA as Shaler forward, and Duquesne recruit, Ryan Landry was taken down in the box and scored on the ensuing penalty kick at 38:30 to give the Titans a 1-0 lead.  The Tigers quickly put a few shots toward the Shaler net as Michael Correa sent a cross into Michael Peters whose shot went wide, and Josh Luchini's pass to Alex Gill was saved by the Titans goalie.
At 25:42, NA's Grant Glorioso made a pivotal close range save that kept the game close, along with a save off a Shaler corner.  Luchini had two more shots at 23:01 and 21:54 that were saved by the Titans keeper, but at 8:23, off some pinpoint passing from Jack Passodelis and Peters, Luchini converted for a goal to make it 1-1.  Shaler had a few more offensive chances before the half expired, but couldn't beat Glorioso and the Tiger defense.  North Allegheny had five shots on goal along with four corners while Shaler had three shots and two corners in the half.
North Allegheny applied a stifling team defense which led to offensive runs for the Tigers, giving them three corners in the first twenty minutes as well as a few free kicks from Nick Thornton that led to scoring opportunities. At 20:52, Correa put a pass into the 15-yard line that was blasted in by Luchini for his second goal of the game, giving the Tigers a 2-1 lead.  Peters was the recipient of a cross along the end line at 12:36 from Luchini that was put in the back of the net for a 3-1 NA lead.  The scoring was topped off at 2:26 as Luchini beat the defense and touched a through ball to Peters who tapped it home to make it 4-1, North Allegheny.  Though the goals came from two players, this was an overall team effort as the defense, midfield and Glorioso controlled the tempo of the game.
The No. 2 North Allegheny Tigers up their record to 8-1-2 in Section 3 along with an overall 11-1-2 showing.  Shaler drops to 4-6-1 in the section and 6-8-1 overall.  The North Allegheny squad next plays at home this coming Thursday against crosstown rival North Hills with a 7 pm start while honoring the Tiger seniors and parents before the game.  The game will be broadcast live via the internet on the North Allegheny Sports Network.