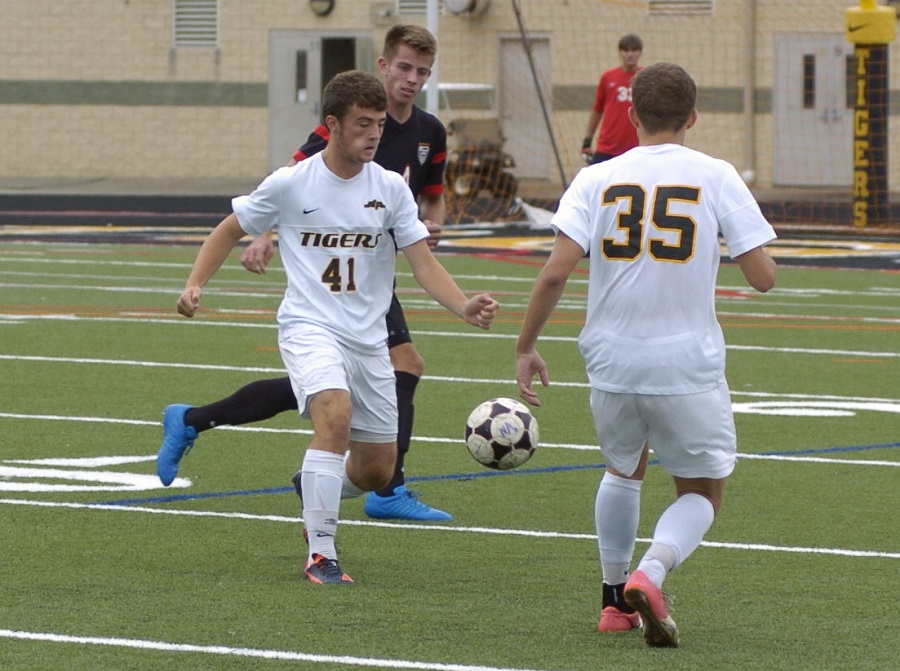 Seneca Valley Outlasts NA In Battle Of Unbeatens
With first place in Section 1-AAAA at stake, the Seneca Valley Raiders blanked the North Allegheny Tigers on Tuesday night, 2-0, at J.C. Stone Field at North Park. The contest was a battle of undefeated teams with the previous meeting this season ending in a 1-1 tie at Seneca Valley.
The Raiders struck early when Cole Dengler netted the game's first goal less than three minutes into the contest to give SV a 1-0 lead. Five minutes later, North Allegheny mounted intense pressure that resulted in a great scoring opportunity for Sean Atwater who delivered a line-drive shot that was blocked on a sprawling save by Seneca Valley goalie Dylan Good to keep the score at 1-0.
Seneca Valley expanded the lead to 2-0 with 29:09 remaining in the first half on a terrific individual effort and open field move by senior Matt Happ. The speedy forward stopped on a dime from about 20 yards out and struck a left-footed shot past NA goalie Grant Glorioso for a 2-0 advantage.
Down by two goals in the first half, North Allegheny knew it would be difficult to score on a Seneca Valley defense that had permitted only two goals all season. Undaunted, the Tigers maintained solid pressure against the stingy Raiders defense and nearly scored with 17 minutes to play in the half when James Nolan's shot hit the right post and bounced away from the net.  With 6:30 remaining in the half, Mike Morrissey arched a shot toward the net but Good denied the Tigers with an outstanding leaping save. Good's play in net kept Seneca Valley on top, 2-0, going into intermission.
In the second half, the Tigers continued to pepper Good with shots but each time he turned NA away. With 34:10 on the clock, Good made a save on a low liner from senior Ben Cinker. At 17:30 of the half, Cam Yurick had an opportunity to score but missed high over the crossbar. North Allegheny's last good scoring chance came with 7:30 remaining in the game but Yurick was turned away on a low pick by Good. Despite a valiant effort from the Tigers, Seneca Valley hung on for a 2-0 win to remain undefeated on the season.
Helping mount some of NA's offensive opportunities was senior forward Owen Leonard with his speed and agility. For his efforts, Leonard was named the Wright Automotive Player of the Game.
North Allegheny sustains its first loss of the season for a 7-1-3 overall record and 3-1-2 section mark. Seneca Valley continues without a loss with an 8-0-1 record and 5-0-1 mark in the section. The Tigers look to bounce back on Thursday with a visit to Shaler.