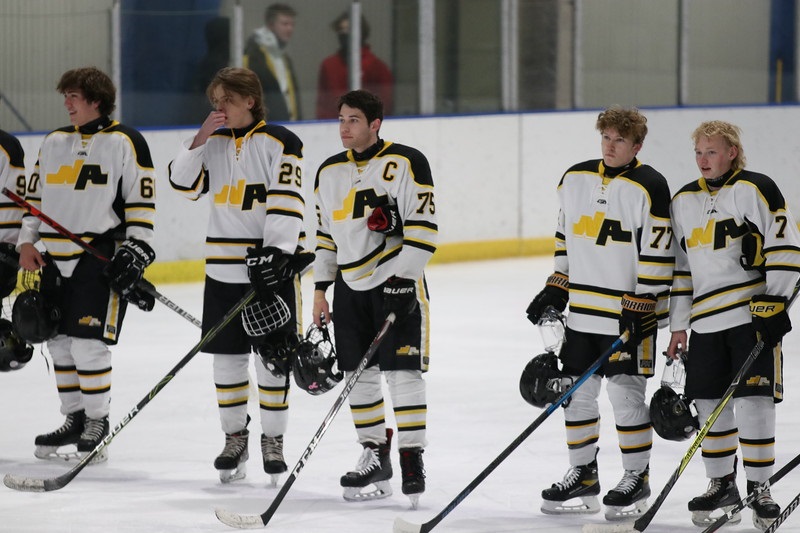 Senior Player Profile: Captain Matt Gentile
For years, a hallmark for the North Allegheny ice hockey program is a hard-nosed and hard-hitting defense. Perennially one of the best in business, the NA defense has led Class AAA with the fewest goals allowed in three of the last four seasons.
"We know that we are consistently one of the top performing defensive corps in the league and we hold ourselves to that standard," said defenseman Matt Gentile.
The cornerstone in recent years of this rock-solid unit is Gentile, the senior captain and the epitome of what a team leader should be. With just two career goals, you won't find Gentile sniping shots past opposing goalkeepers but instead he is a defensive defenseman that anchors the team's penalty kill unit. His consistent and intelligent defense, along with his bone-rattling checks, is why the North Allegheny defensive unit remains one of the best.
"It's definitely kind of an energy booster," said Gentile about delivering a big hit. "It can definitely help change the energy or the mood on the bench with a big hit or standing up for your goaltender, and things of that nature."
Strength and power are traits that certainly run in the Gentile family. His 16-year-old sister, Sophia, competes in power lifting. She owns world records in the Back Squat PR and Bench Press, along with two national records and six state records.
Before Gentile was punishing opponents with his devastating checks, his affinity for ice hockey began at six-years old when his mother, Kristin, signed him up for the Learn to Skate Program at Robert Morris University.
"From there I went into the In-House Program at RMU and I fell in love with the sport."
As his interest in ice hockey continued into middle school, Gentile credits his youth coach, Scott Mark, and North Allegheny varsity coach, Mike Bagnato, as the two biggest influences on his playing career.
"(Coach Mark) really helped guide me along when I was a young player for the North Pittsburgh Wildcats…I really developed my play style under Scott Mark and I fine tuned it, and really refined it, under coach Bagnato."
At the high school level, Gentile's career continued to blossom as he made the JV roster as a freshman and crossed over to varsity as a sophomore. During his sophomore year, Gentile played in 15 games but was more of a second stinger for a senior-laden Tigers team. Despite the reduced role, Gentile found the experience beneficial.
"That year, I played with some of the best defensemen I've ever played with. We had four senior defensemen and they were exceptional players. I learned a lot from them and that prepared me to take on a much more significant role my junior and senior years."
At the conclusion of Gentile's sophomore year, North Allegheny won the 2019 PIHL Penguins Cup championship with a 3-0 win over Peters Township and reached the Pennsylvania Cup Final in a hard-fought game against LaSalle. Something that left a lasting impression on Gentile, however, was the fact that he was a healthy scratch for both championship games.
"That's something that's driven me. Being a healthy scratch in those games, that really only pushed me to work harder."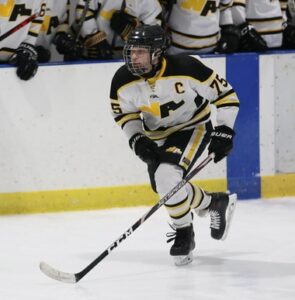 That hard work and effort allowed Gentile to secure a starting role for the 2019-20 season. With Gentile serving as one of the team leaders on defense, North Allegheny led Class AAA in goals allowed and permitted a paltry 47 goals for the entire season.
Following a 4-3 win over Bethel Park in the PIHL quarterfinals, the Tigers seemed poised for a second straight Penguins Cup crown. However, prior to NA's PIHL semifinal matchup against Pine-Richland, the sports world came to a screeching halt. The COVID-19 pandemic not only canceled the game but the remainder of the postseason. The 2019-2020 season had no conclusion and no champion.
"It was devasting. We were right on the cusp of playing one of our most anticipated games of the year against Pine-Richland. I rather would have lost that game than to never have played it at all."
While COVID-19 remains a hurdle for the 2020-21 season, North Allegheny is off to a terrific 5-1 start. It's not been easy as the team has played games without its entire roster available at times because of contact tracing. With a senior captain and leader like Gentile in the fold, the Tigers have persevered.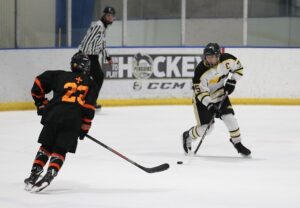 "There have been times where we couldn't even practice with our lines because we didn't have enough guys. Our record is really a testament to how everyone has adapted."
At the moment, the current season is on pause because of another state lockdown as a result of COVID-19. However, this time around, there is a renewed hope and enthusiasm that this season will indeed be completed.
"I'm grateful that we've had a season at all. I personally resolve that however many games I get, I'm going to play every game like it's my last because it very well could be."
After high school, Gentile plans on studying Chemical Engineering. He has not yet decided on a college but has narrowed his search to Penn State, Georgia Tech and Alabama. If possible, Gentile hopes to continue his ice hockey career at the club level.