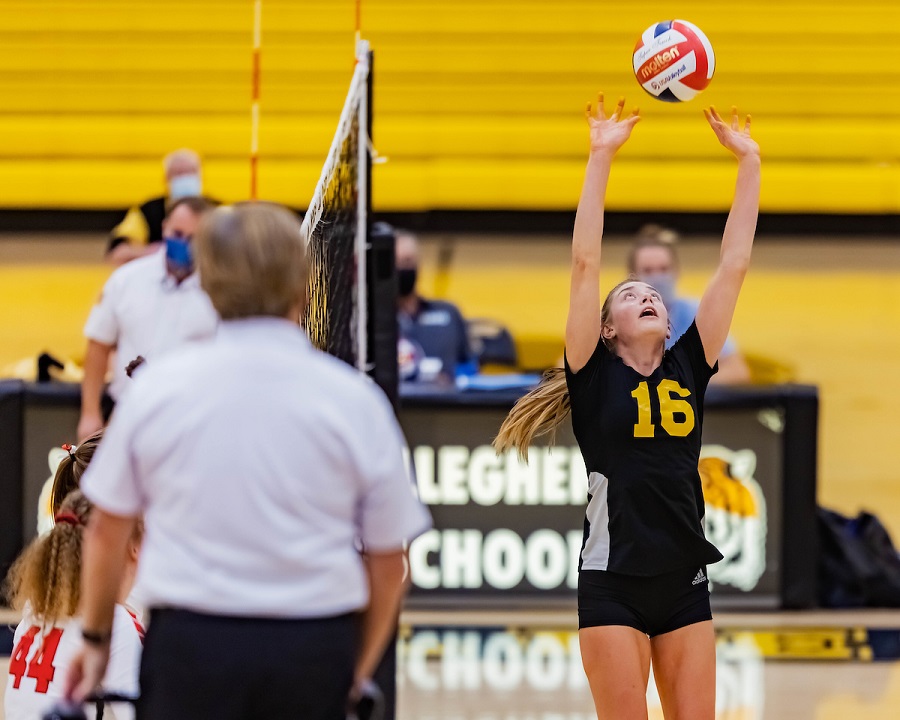 Senior Player Profile: Paige Morningstar
For the last decade, there has a been a Morningstar on the court for the North Allegheny girls' volleyball and basketball teams. It's no coincidence that both programs have seen great success and won numerous championships during that span. For Meg, Piper and Paige Morningstar, the burning desire to the be the best is established among themselves.
"Whenever (my sisters) came back home for the holidays, we played basketball in the driveway just like we did so long ago," said Paige Morningstar. "Yeah, the competition is still there.
"Even last night, Meg and I were having an argument about who was the better defender in basketball. Its always a competition in the house no matter what we're doing. It's really formed us all into great people and great characters."
With iron sharpening iron, the lessons learned in those backyard battles has created a family legacy. Oldest sister, Meg, played collegiate volleyball at the University of Notre Dame, was the USA Today's Gatorade Pennsylvania Player of the Year in 2014 and the MVP of the 2015 Roundball Classic, among other accolades. Middle sister, Piper, is currently a junior basketball player at Washington & Jefferson College and helped W&J reach the Presidents' Athletic Conference championship game last season. She also led North Allegheny to back-to-back WPIAL titles (2017 and 2018) and a PIAA runner-up in 2017.
"They both set the bar extremely high. Every year I would look at what they did and try to beat what they did. That's really what motivated me. Them accomplishing so much has really pushed me to be my best."
Perhaps the most battle-tested and arguably the most-decorated of this triumvirate is youngest sister, Paige. The "baby star" has shone brightly during her tenure at North Allegheny, especially in volleyball. During her four years on the team, the NA volleyballers racked up an astonishing 88-1 record and captured four straight state championships.
"Its honestly a dream come true…It's been a great experience. I love those girls, all of them, every year. It was a great group and a great team."
As her career evolved at North Allegheny, Paige Morningstar was one of two all-state setters on a Tigers team that utilized a 6-2 alignment during her sophomore and junior seasons. As a senior this past fall, she was the primary setter in a 5-1 rotation. Thrust into a leadership position, Paige Morningstar put her stamp on the NA volleyball program.
"The position alone makes you a leader. Off the court, especially, I got everyone in the right mindset to let them know what we needed to do to win."
Paige Morningstar not only quarterbacked the NA attack but also displayed great resolve as the team's setter. One of only three seniors on the team this past fall, the stoicism she displayed in close contests rubbed off on her younger teammates.
"My personality is more, cool, calm and collected, so bringing that to the court is really beneficial. When you're in a tight match and big moments like that, my teammates looked to me and it calmed the team down."
That fortitude proved pivotal in a five-set thriller against Landisville Hempfield in the 2020 PIAA semifinals. Paige Morningstar, and fellow senior Paige Miller, helped the Tigers outlast the Black Knights in the fifth set, 15-9, to advance to the PIAA championship. In the state title tilt, North Allegheny capped a perfect 18-0 season with a 3-0 sweep of Unionville.
In basketball, Paige Morningstar brings that same calm and poise to the hardwood. In overtime of the 2020 WPIAL championship game against Bethel Park, she delivered the game-clinching free-throw with 5.9 seconds remaining to preserve a 54-50 victory.
"I remember making that free-throw. That feeling is the best. Knowing you're about to win a huge game, that feeling will never go away and it's incredible."
While she considers it her second sport, basketball holds a special place for Paige Morningstar, especially since her father, Darren, starred at the University of Pittsburgh and played in the NBA.
"(Basketball) is very special to me. For my sisters and my Dad, it's a big thing in my family. It's super fun and I love being on the court with my teammates and wearing that NA jersey."
Providing a long and athletic inside presence, Paige Morningstar was second on the team in scoring with 9.7 points per game and added 5.7 rebounds per contest last season and helped the team to a 24-3 record. With NA slated to play Nazareth in the PIAA quarterfinals, the Tigers bid for a state title was preempted by COVID-19.
"We were so confident in the team. That day when all the news came out, we were just crushed…Knowing that we weren't able to play our next game, it was devastating."
Last season's stunning conclusion has left the NA basketball team with a sense of even greater purpose for the 2020-21 season.
"This year, we want nothing more than to do what we couldn't do last year and finish what we started."
With a trophy case full of medals and awards, Paige Morningstar has been named all-state three times in volleyball and was recently named the 2020 Post-Gazette Girls Volleyball Player of the Year. She was selected as the 2020 Female Athlete of the Year by Trib HSSN for her performance in volleyball and basketball.
Paige Morningstar has been a part of four PIAA and three WPIAL volleyball championships, as well as two WPIAL basketball titles and one WPIAL runner-up. After already winning one state crown on the volleyball court this past fall, she would love nothing more than to close out her senior season with two more gold medals in basketball.
"To finish the (year) with two more championships would be incredible. Especially, to get a state basketball title that I've never had, that would make a great finish. I would love it."
After her graduation from North Allegheny, Paige Morningstar will continue her volleyball career at the University of Louisville where she plans to major in Business.