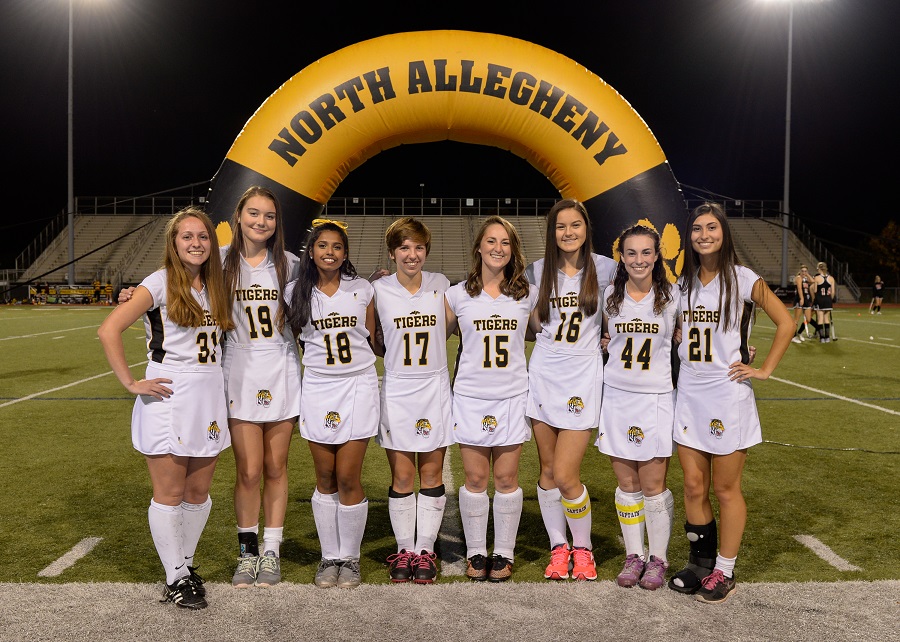 SENSATIONAL SENIOR SEND OFF FOR TIGERS
North Allegheny Field Hockey hosted Upper St. Clair in a non-section contest on Monday night at Newman stadium. For the eight NA seniors, this would be their last regular season home game and they were honored pre-game for their contributions to the program.  North Allegheny, behind two goals and three assists from junior Brooke Cameron, defeated Upper St. Clair, 7-0.
Riding on the emotion of Senior Night, the Tigers jumped on the Panthers immediately with Cameron taking a feed from senior forward Maddy Snyder and finding the goal at the 2:19 mark of the half.  A mere 35 seconds later midfielder Maddie Birmingham zipped a shot which deflected off the Upper St. Clair goaltender and into the cage for a 2-0 lead.  The NA press was evident as a little over a minute later, Cameron had her second goal of the night when she tipped in a rebound from freshman forward Angie Genter.  The final Tiger goal of the first half was added when sophomore forward Gracie Limauro carried the ball into the circle and delivered a perfect pass to Snyder who fired the ball into the back of the cage.  The first half statistics reveal the picture precisely with NA having four penalty corners and nine shots while Upper St. Clair had one penalty corner and three shots.
NA eased off the throttle while continuing to control play in the second half. The scoring occurred in a flurry again, this time towards the end of the half in a series of penalty infractions in the Upper St. Clair circle.   At 24:50, on a penalty corner, Cameron inserted the ball cleanly to senior midfielder Jessie Serody who zoomed a shot from the top of the circle to make the score 5-0.  NA would add two more goals, both on penalty corners – one by senior defender Catie Kelly and the other by Serody, both off of inserts by Cameron.  For the game, NA had 16 penalty corners and 21 shots on goal while Upper St. Clair had one penalty corner and five shots on goal.  Four seniors would score on the night, capping their send off with a resounding sign of their collective importance to this team.
We would like to thank our seniors and wish them all the best in their future endeavors. The NA Tigers Field Hockey seniors are Maddie Birmingham, Kate Graham, Catie Kelly, Olivia Krause, Vibha Reddy, Jessie Serody, Maddy Snyder, and Anna Zahren.
Field Hockey Summary vs. Upper St. Clair, 10-12-15
| GAME SUMMARY | | | |
| --- | --- | --- | --- |
| SCORE BY HALVES | 1 | 2 | FINAL |
| Upper St. Clair | 0 | 0 | 0 |
| North Allegheny | 4 | 3 | 7 |
Field Hockey Individual Scoring vs. Upper St. Clair
| INDIVIDUAL STATS | | |
| --- | --- | --- |
| FIRST HALF | | |
| North Allegheny | Brooke Cameron (Maddy Snyder) | 2:19 |
| North Allegheny | Maddy Birmingham | 2:55 |
| North Allegheny | Cameron (Angie Genter) | 5:23 |
| North Allegheny | Snyder (Gracie Limauro) | 15:44 |
| SECOND HALF | | |
| North Allegheny | Jessie Serody (Cameron) | 24:50 |
| North Allegheny | Catie Kelly (Cameron) | 26:55 |
| North Allegheny | Serody (Cameron) | 29:57 |