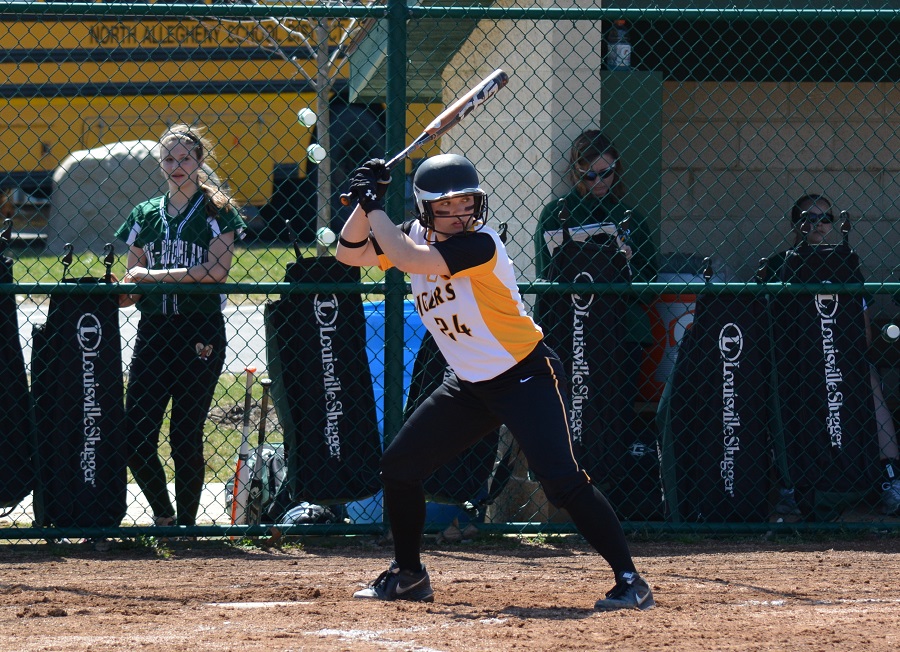 Shaler Edges North Allegheny, 1-0
In a tremendous pitcher's duel between NA's Madi Beining and Shaler's Bri Dobson, the Titans edged the Lady Tigers on Saturday afternoon, 1-0, in an exciting Section 3-AAAA contest at Hilltop Field. Lyndsey Lakatos drove in the game winning run for Shaler with a walk-off RBI single in the bottom of the seventh inning.
Dobson, who tossed a one-hit shutout on Friday against Fox Chapel, served up four hits very early to North Allegheny and three in the second inning alone.  Singles by Casey Ginocchi, Madi Beining, and Mackenzie Gostomski loaded the bases with two outs in the top of the second.  However, Dobson buckled down for a strikeout to end the inning and the Tigers threat was thwarted. Ginocchi, who was 2 for 3 with a pair of singles, was named the Wright Automotive Player of the Game.
While Dobson danced through the rain drops in the early innings, Beining was sharp and yielded harmless hits in the third and fifth innings.  The NA right-hander struck out five batters and surrendered only four hits total in a complete game effort, despite suffering the loss.
The Tigers challenged Dobson again in the sixth and seventh innings, but both times the Shaler hurler pitched her way out of danger.  In the sixth, Mary Funderlich laced a two-out double to right-centerfield and Emily Hogan followed with a soft liner that seemed destined to get up the middle.  However, Dobson speared the Hogan liner with a snow cone catch to end the inning.  In the seventh, Ginocchi singled to start the frame and was sacrificed to second by Beining. Dobson managed to retire the next two hitters without yielding a run and the game remained scoreless heading to the bottom of the seventh.
The Titans loaded the bases with one out in their half of the seventh to set the stage for Lakatos.  The game winning base hit was not your run of the mill single as Lakatos' soft liner caromed off of base runner Amanda Sartori who was moving from first to second on the play.  With the Tigers infield pulled in with one out, the Lakatos liner struck Sartori behind the NA infielders.  By rule, if a ball hits a runner who is beyond the infield, the runner shall not be called out, and in this case resulted in a game winning single for Lakatos and a 1-0 win for the Titans. See rule 7.09 (k).
Following the loss, North Allegheny drops to 11-4 overall and 7-3 in Section 3-AAAA.  Shaler improves to 11-2 overall and 9-2 in section play, pulling into a first place tie with Seneca Valley. The Tigers, who have already clinched a playoff spot, will look to rebound on Monday afternoon at North Hills. First pitch is scheduled for 4:00 pm.
Line Score - NA Softball vs. Shaler, 5/2/14
| Score by Innings | 1 | 2 | 3 | 4 | 5 | 6 | 7 | | R | H | E |
| --- | --- | --- | --- | --- | --- | --- | --- | --- | --- | --- | --- |
| North Allegheny | 0 | 0 | 0 | 0 | 0 | 0 | 0 | | 0 | 6 | 0 |
| Shaler | 0 | 0 | 0 | 0 | 0 | 0 | 1 | | 1 | 4 | 0 |
WP - Bri Dobson LP - Madi Beining (6-2)