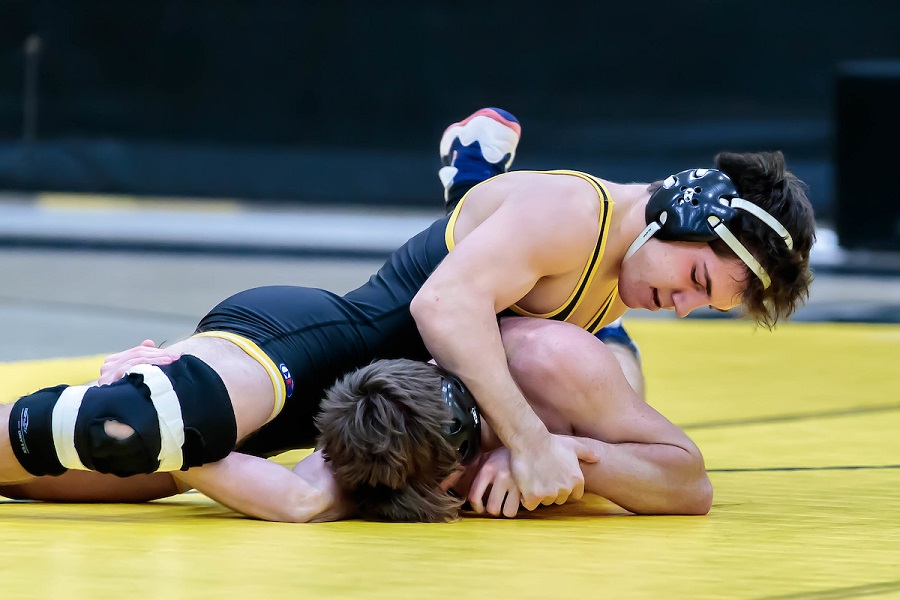 Six Tigers Proceed To Day Two Of WPIAL Individual Tournament
Six North Allegheny grapplers will enter day two of the Class AAA WPIAL individual wrestling tournament at Canon-McMillan High School on Saturday.
Senior Derek Devine is the lone NA wrestler remaining in the winner's bracket at 285 pounds thanks to a pair of victories in day one. Devine opened the tournament with a win by fall over Ringgold's Andrew Verscharen and followed that up with a 5-2 decision over Corey Dodson of Albert Gallatin in the quarterfinals. Devine will face Gerald Brown of West Mifflin in the semifinals in day two.
At 160 pounds, junior Jon Hoover also reached the quarterfinal round courtesy of a 12-0 major decision over Casper Hinklie of Connellsville in the first round. However, Hoover dropped a 7-0 decision to Canon-McMillan's Garrit Nijenhuis in the quarterfinals. Despite the loss, Hoover will continue on in the consolation bracket.
Other Tigers who remain alive in the consolation bracket in day two will be Freddy Junko (113), Jacob Downing (126), Gabe Falo (132) and Ben Grafton (220). For a complete look at North Allegheny's results from day one action, see below.
You can also follow along and listen to the entire WPIAL Class AAA wrestling tournament courtesy of our friends at WJPA Radio by clicking here.
WPIAL Class AAA Wrestling Championships - Day One
Friday, March 2 at Canon-McMillan High School
| Weight | Wrestlers | Score |
| --- | --- | --- |
| 113 | Dylan Chapel (Seneca Valley) dec. Freddy Junko (NA) | 5-1 |
| 1st Consolation | Freddy Junko (NA) maj. dec. Nico Williams (Greensburg Salem) | 13-4 |
| | | |
| 120 - Pigtail | Mario Sarnic (Franklin Regional) dec. Mohammaad Khatami (NA) | 6-3 |
| | | |
| 126 | Jacob Ealy (Hopewell) dec. Jacob Downing (NA) | 6-2 |
| 1st Consolation | Jacob Downing (NA) maj. dec. Kameron Grassi (Knoch) | 10-2 |
| | | |
| 132 | Luca Augustine (Waynesburg) dec. Gabe Falo (NA) | 6-2 |
| 1st Consolation | Gabe Falo (NA) dec. Tyler Hughes (Greensburg Salem) | 2-1 |
| | | |
| 145 - Pigtail | Hunter Milligan (Albert Gallatin) dec. Nick Marcenelle (NA) | 5-1 |
| | | |
| 152 - Pigtail | Dante Cecchine (Trinity) pined Manuel Bautista (NA) | 4:09 |
| | | |
| 160 | Jon Hoover (NA) maj. dec. Casper Hinklie (Connellsville) | 12-0 |
| Quarterfinals | Garrit Nijenhuis (Canon-McMillan) dec. Jon Hoover (NA) | 7-0 |
| | | |
| 220 | Ben Grafton (NA) pinned Troy Kuhn (Kiski Area) | 1:57 |
| Quarterfinals | Ian Edenfield (Laurel Highlands) pinned Ben Grafton (NA) | 0:59 |
| | | |
| 285 | Derek Devine (NA) pinned Andrew Verscharen (Ringgold) | 1:16 |
| Quarterfinals | Derek Devine (NA) dec. Corey Dodson (Albert Gallatin) | 5-2 |
| | | |