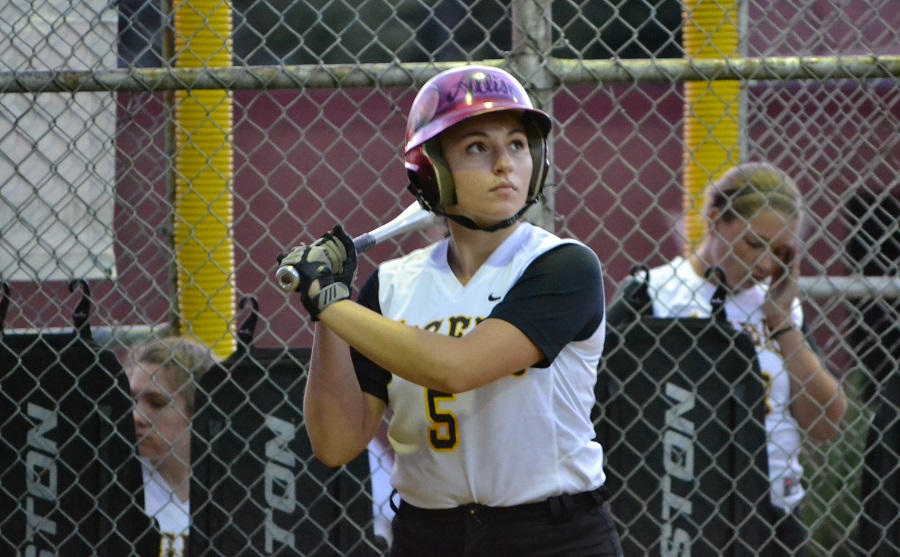 Slow-Pitch Sweeps Shaler
On Sunday, September 20, the Lady Tigers traveled to Shaler to face the Lady Titans.  Both teams entered the double header with identical 3-1 records.  In game one, the Lady Tigers jumped to an early first inning lead scoring five runs. Lead-off batter sophomore Rachel Giger set the tone with a hustling single and setting the table for senior hitters Alexis Kruth and Julia Buss.  Buss roped a two-run triple down the right field line.  Shaler answered back with five runs themselves in the bottom of the first to tie the score, 5-5.  NA's defense showed up often and early in this game and held the Titans to no runs in the next three innings.  NA now with an 8-5 lead going into the fifth, found the resilient Titans once again tying the score at 8-8 after 5 full.  But the Lady Tigers picked up the pace and scored five runs in the last two innings to win the game with a final score of 13-11.  Defensive highlights were two double plays by Kruth and Giger.  Sophomore Kayla MacDonald made strong relay throws from her cut off position in left center field to throw out two runners attempting to stretch a double into a triple at third base.  The Tigers were led offensively by seniors Kristen Kovalchik, Kruth, and Buss, and junior Paulette Rollant who was 2 for 3 in the game. Buss' 5 RBI's proved too much for the Titans to overcome in this hard fought win for the Lady Tigers of NA.
Game two was another battle as both teams exchanged the lead three times during the contest. Down 4-1 going into the bottom of the third inning, the NA bats came alive as NA opened the inning with four consecutive hits from sophomores Rachel Giger and Kayla MacDonald, followed by senior Kristen Kovalchik and junior Jordyn Lilienthal.  Carly Kovalchik crushed a double to center field, and the Tigers found themselves back in the game and up 5-4 after 3 innings.  The Tigers picked up in the fourth inning when senior Allison Searight, Paulette Rollant, and Giger again strung three hits together, setting the table for Kristen Kovlachik, who delivered a run scoring single, followed by a sacrifice fly by Lilienthal.  NA never looked back and won game two with a final score of 10-8, sweeping the Lady Titans. Next up for the Lady Tigers are the two-time defending WPISL champion Montour Lady Spartans, who visit NA this Sunday, 9/27 with a 6-0 record.  Come out and cheer your Lady Tigers on as two of the league's top teams go head-to-head at the MMS Softball Field at 2:00 PM and 4:00 PM.