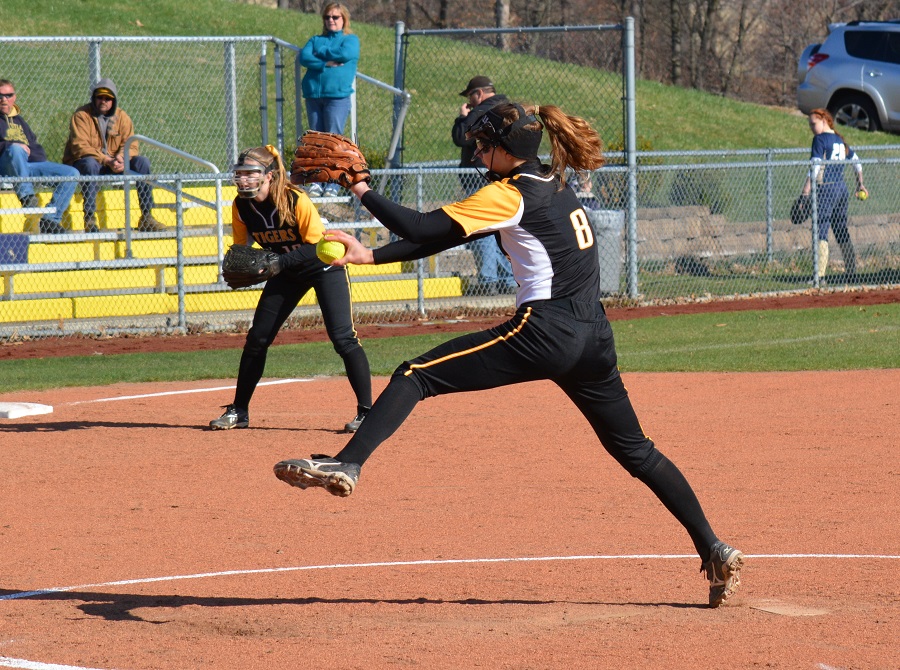 Spartan Effort; Tigers Top Montour
The North Allegheny Varsity Softball Team closed out the regular season on Thursday evening at Fairhaven Park, where they defeated the Montour Spartans, 4-0, behind the complete game five-hitter thrown by senior Sami Beining. Beining struck out seven and walked only one to earn the victory.
The Tigers struck first in the first when leadoff batter senior center fielder Laura Cotter doubled.  One out later, senior third baseman Mary Funderlich drove home Cotter to give NA a 1-0 advantage.  North Allegheny added two more in the second as sophomore shortstop Lacey Hilderbrand walked, senior designated player Julia Buffalini sacrificed Hilderbrand to second, and was safe on an error and wound up on second base with Hilderbrand moving to third.  Both runners held as junior left fielder Mackenzie Gostomski beat out a perfect bunt to load the bases.  With two outs, junior first baseman Liz Scherer came through with a clutch single up the middle to raise the NA advantage to 3-0.  The Tigers scored their final run when Hilderbrand struck out but safely reached first on an error by Montour's catcher. A double deep into the left field corner by junior designate player Erica Jelinek drove in Hilderbrand for the final run of the night.
The win gives the Tigers a final regular-season record of 15-4, while maintaining their 9-3 Section 3-AAAA mark.  The team will play McKeesport in the first round of the W.P.I.A.L. playoffs on Tuesday afternoon at Plum High School in a 5:00 start. For a look at the Class AAAA Softball brackets, click here.
Line Score - NA Softball vs. Montour, 5/8/14
| Score by Innings | 1 | 2 | 3 | 4 | 5 | 6 | 7 | | R | H | E |
| --- | --- | --- | --- | --- | --- | --- | --- | --- | --- | --- | --- |
| North Allegheny | 1 | 2 | 0 | 0 | 0 | 1 | 0 | | 4 | 8 | 1 |
| Montour | 0 | 0 | 0 | 0 | 0 | 0 | 0 | | 0 | 5 | 2 |
WP - Sami Beining (7-2) LP - R. Donovan