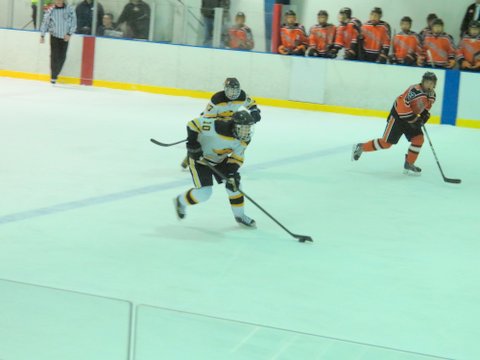 Bethel Park Clips North Allegheny, 4-1
A fortuitous bounce and two goals by Christian Siak were enough to help Bethel Park sink the North Allegheny Tigers on Tuesday night, 4-1, at the BladeRunners complex in Warrendale.  In a rematch of last year's PIHL Semifinals, the Black Hawks exacted revenge as Siak and Nicholas Konyk each finished with two goal performances for BP.  It was Konyk's first goal at the 5:24 mark of the third period that turned the tables on the Tigers. 
With the game tied 1-1, Konyk dumped the puck off the boards and North Allegheny goalie Bradford Thornburgh moved behind the Tigers net to play the puck.  However, the puck took a strange carom off the boards and instead into the NA vacated net to give the Black Hawks a 2-1 lead. Five minutes later, Siak scored his second highlight reel goal of the evening as he beat an NA defenseman and slipped the puck through the five-hole of Thornburgh, giving Bethel Park command of the game, 3-1.  Konyk added a short-handed empty net goal in the waning seconds of the game to cap the scoring.
In the first period, it looked as if Bethel Park might grab the early lead when Ian Cunningham was whistled for a tripping penalty at the 9:21 mark of the period. Instead, it was North Allegheny's Marty Hubert who capitalized on a loose puck at the BP blue-line, skating in on a breakaway and burying a shot past Black Hawks goalie Zach Davis for a short-handed goal and a 1-0 Tigers lead. With a little over three minutes left in the period, Siak notched his first marker to tie the score, 1-1.
After Konyk's bad bounce goal set the Tigers back, 2-1, it was Hubert who nearly evened the score with the Tigers again short-handed. Moments following Konyk's goal, Thornburgh was called for interference.  While killing the penalty, Hubert almost pulled off another breakaway tally but this time Davis snuffed out the shot as Bethel Park ultimately would prevail.  Hubert's terrific effort throughout the night earned him Wright Automotive Player of the Game honors.
North Allegheny drops to 3-2 on the season and into a first place tie with Seneca Valley atop Section 2.  Bethel Park claims its first win of the campaign, improving to 1-2.  The Tigers host Upper St. Clair next Tuesday at 8:10 pm in Warrendale. 
Ice Hockey Summary vs. Bethel Park 11-19-13
| GAME SUMMARY | | | | |
| --- | --- | --- | --- | --- |
| SCORE BY PERIODS | 1 | 2 | 3 | FINAL |
| Bethel Park | 1 | 0 | 3 | 4 |
| North Allegheny | 1 | 0 | 0 | 1 |
Ice Hockey Individual Scoring vs. Bethel Park
| INDIVIDUAL STATS | | |
| --- | --- | --- |
| FIRST PERIOD | | |
| North Allegheny | Marty Hubert - SH | 10:52 |
| Bethel Park | Christian Siak (Derek Lesnak) | 13:38 |
| SECOND PERIOD | | |
| | NO SCORING | |
| THIRD PERIOD | | |
| Bethel Park | Nicholas Konyk | 5:24 |
| Bethel Park | Siak (Lesnak) | 10:58 |
| Bethel Park | Konyk - SH | 16:53 |