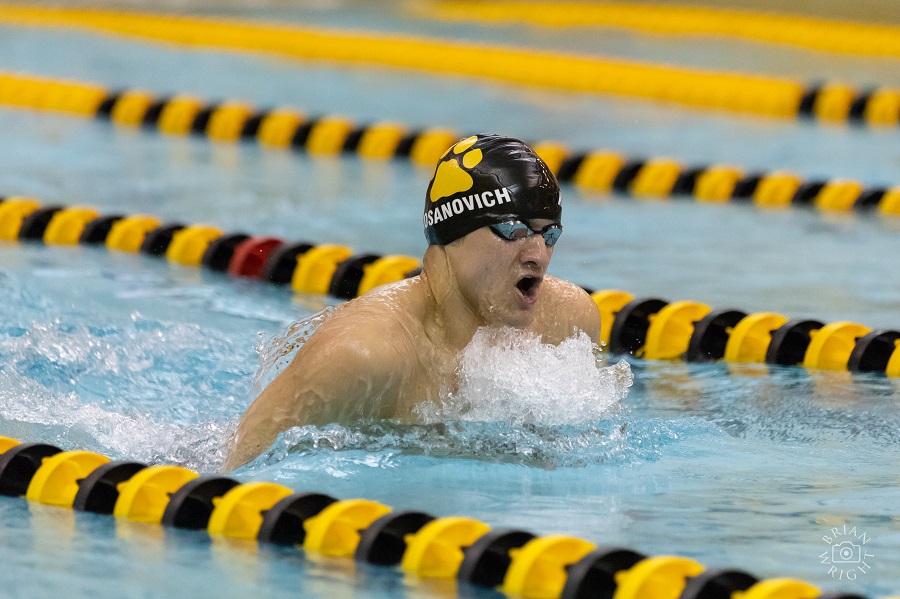 Student-Athlete Profile: Senior Branko Kosanovich
Born in Chicago, Illinois, senior Branko Kosanovich took up swimming at the urging of his parents. Kosanovich's enthusiasm for the sport was lukewarm until watching his older sister, Maya, swim for York High School in Elmhurst, Illinois.
"She's the oldest so I always looked up to her," said Kosanovich. "She's very independent and a leader.
"Over time, swimming grew on me. I liked the whole process of the grind and getting better."
As Kosanovich was approaching the start of his high school career, the realization of a collegiate future in the sport took shape.
"Freshman year I was watching all my friends going through the college process and realized my times weren't that far off from theirs. I just worked at it freshman year with the goal in mind to get to Penn State."
Kosanovich spent two years swimming for York High School before he and his family moved to Pittsburgh prior to his junior season. While at York, he set school records in the 100 Free, 100 Fly and 50 Free and competed for an Illinois state championship in his freshman and sophomore seasons.
Upon arrival at North Allegheny for the 2018-2019 season, Kosanovich's career skyrocketed.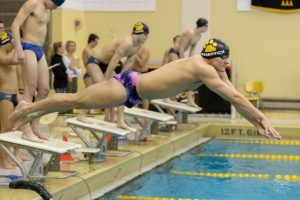 "From the very first time I arrived at North Allegheny, I knew the (swimmers) were very serious and I had to bring 100-percent effort to every practice just to stay with them. I knew they were going to work hard but it was going to be worth it in the end because all they do is win championships."
Adding fuel to the fire for Kosanovich's first year at North Allegheny was a less-than-desired finish at the Illinois state finals the year prior due to a knee injury. Fully healthy as a junior, he was determined to show his new teammates, and himself, what he was capable of.
On his maiden voyage with the Tigers, the North Allegheny boys' swimming team cruised to a WPIAL and PIAA championship. Kosanovich was part of a relay team that won the WPIAL and PIAA title in the 400 Free Relay, doing so with a time of 2:59.80 in the state finals. He won WPIAL bronze in the 100 free and finished 11th at states in the same event.
"It was so sweet. I went from one of the worst meets of my life (in Illinois), to a year later, being a state champion."
Things got even sweeter for Kosanovich during the 2019-2020 season as the Tigers won a ninth consecutive WPIAL title. During the two-day WPIAL championship, Kosanovich claimed gold in the 100 Free, an event he was not expected to win. It's one of his most cherished victories.
"The day before I swam the 100 Fly and I didn't do as well as I really wanted to. I came back the next day really focused and really energized and wanted that payback. I was seeded third…and it really meant a lot to be a WPIAL champion."
During his two years on the North Allegheny roster, Kosanovich became an eight-time WPIAL and eight-time PIAA medalist. That total includes six WPIAL and two PIAA gold medals. He also owns the NA school record in the 100 Fly with a time of 48.69 in 2019.
All of those achievements helped Kosanovich reach his dream, signing his letter of intent with Penn State University.
"Penn State was head and shoulders above the rest. I fell in love with it the first time I was on campus and they have my major and I want to major in Business."
With the Nittany Lions, he will continue a family legacy that began with his grandfather, Bronco Kosanovich. A member of the Beaver County Sports Hall of Fame, Bronco Kosanovich starred at Aliquippa High School before becoming an honorable mention All-American center and linebacker at Penn State from 1944-1946. He also played one season professionally for the Pittsburgh Steelers.
To reach his goals, Branko Kosanovich is forever grateful for the opportunity to swim at North Allegheny.
"It's been awesome. I really met some great people at NA. I'm very blessed to be a part of the success. It's been a very fun ride."