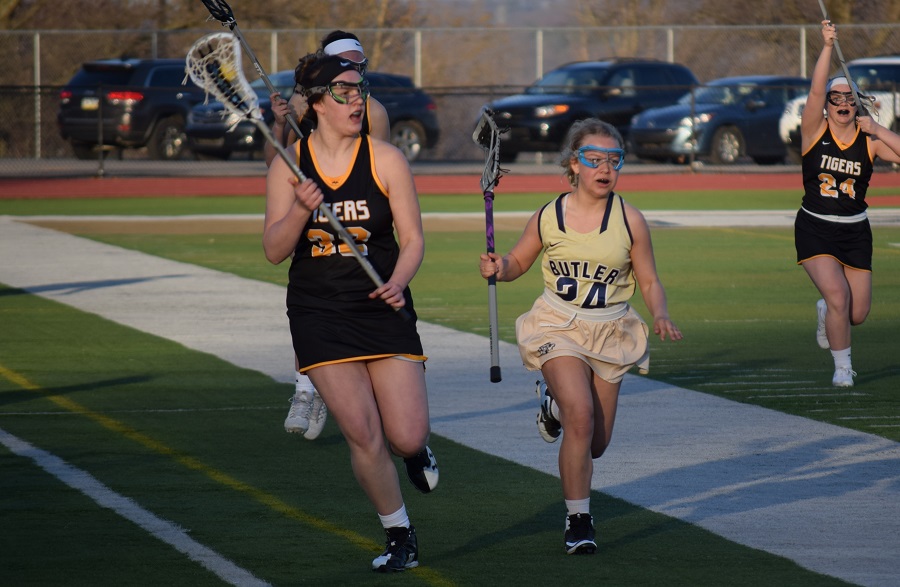 Student-Athlete Profile: Senior Defenseman Josie Barton
Having played basketball most of her life, Josie Barton tried out for the North Allegheny girls' basketball team her freshman year but didn't make the final roster. While devasted at the time, fate had intervened and directed Barton toward her true future in girls' lacrosse.
"I'm very glad I didn't make the (basketball) team because I would've never started lacrosse or tried out," said Barton. "I think that my skills from basketball really helped me with lacrosse."
With her only experience in lacrosse occurring during a summer clinic leading into the 2016-2017 school year, Barton and her older sister, Anna, both tried out and made the North Allegheny girls' lacrosse roster.
"I think having a family member on the team was a huge influence because it caused me to up my game. She really pushed me to learn more and invest more time into practice outside of school. She was a huge influence to keep going and not give up."
At the time, the Tigers were coming off a 3-12 season the year prior and were in a rebuilding phase under second-year head coach Harry Datz. Thanks in part to the Barton sisters, the North Allegheny girls' lacrosse program would soon be on the rise.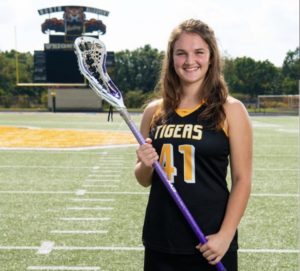 A raw recruit as a freshman, Barton began the season on the JV roster.  A quick study on the rules and strategy of lacrosse, she ascended into a starting role on defense by midseason.
"In ninth grade, that was the biggest challenge. I had to learn the basics."
By the end of the 2017 regular season, Barton and the entire team had found a groove and the Tigers ended a two-year playoff drought with five section wins to qualify for the postseason. In the WPIAL Class AAA first round, North Allegheny upset heavily-favored Shady Side Academy on the road, 12-11, for the first postseason win in program history. With NA leading by four goals in the second half, Barton and the Tigers defense staved off a furious SSA rally and hung on for an historic one-goal victory. The win proved to be a springboard for success for both Barton and the Lady Tigers lacrosse team.
"I think the year that I started, and my sister started playing lacrosse, we had an influence on the team but the team also had a huge influence on us. That (2017 season) really connected the team."
After narrowly missing the playoffs in 2018, North Allegheny returned to the postsason in 2019 and posted an impressive 12-7 overall record and 7-4 mark in Section 2-AAA. The Tigers hosted their first ever home playoff game at Newman Stadium in the WPIAL first round and dominated Canon-McMillan, 18-8.
Entering the 2020 season, Barton was prepared to take over as a senior leader and was named a team captain. Unfortunately, the spring sports season was canceled by the PIAA because of COVID-19.
"I'm really going to miss this season because I saw a lot of potential in the incoming ninth graders and returning veterans. I was really excited for this team."
During the course of her North Allegheny career, Barton and the girls' lacrosse team made great strides over the last four years. In that span, Barton's most cherished memories are the two seasons she played alongside her sister, Anna.
"My favorite time at NA was getting to play with my sister and spending more time with her. She's a big influence and role model for me, not only just in sports but as a person."
Next season, Barton will not only continue her lacrosse career at the collegiate level but will also return to the hardwood to play basketball at Thiel College in NCAA Division III's Presidents' Athletic Conference. She looks to follow in the footsteps of current Tomcat standout, sophomore Destiny Johnson, who was named the 2019 PAC Rookie of the Year in basketball and a PAC honorable mention in women's lacrosse that same year.
"I met (Destiny) at my last Thiel visit and she talked to me about playing both basketball and lacrosse and she loved it."
Barton is undecided on her major at Thiel College but is leaning toward Journalism and Multimedia studies.