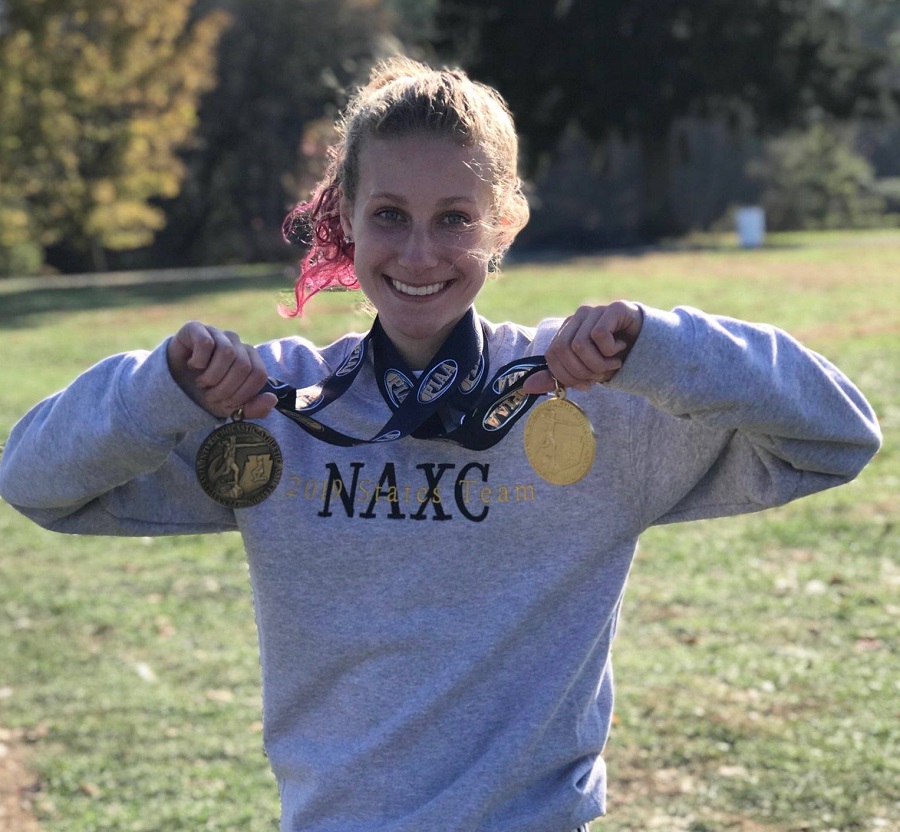 Student-Athlete Profile: Senior Hannah Lindgren
When Hannah Lindgren was approaching her freshman year at North Allegheny, she had a decision to make – to continue her career in cross country or in soccer. Lindgren had participated in both sports while in middle school but she ultimately made her choice at the insistence of her eighth-grade track coach E.J. Robertson.
"Coach Robertson really pushed me to try cross country because he thought I had potential," said Lindgren. "It ended up being a really great fit for me.
"I remember the first couple days of summer cross country – I felt really welcomed and I liked coach (John) Neff a lot and I kind of just went with it…It's been one of the best things for me at North Allegheny."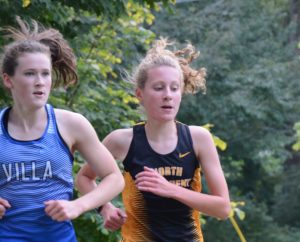 Lindgren's running career accelerated quickly at North Allegheny. As a freshman and sophomore, she medaled at the WPIAL championships and helped the team to third place finishes in both 2016 and 2017. Individually, Lindgren placed 12th in her rookie season and fifth as a sophomore.
During the early years of her high school career, Lindgren credits former WPIAL champion Clara Savchik, who is now a sophomore at Duke University, as a guiding influence.
"(Clara) didn't put too much pressure on herself. Her outlook on training and running was very relaxed and she was more laid back. I think that helped me relax a little bit, especially seeing how confident and composed she was at the starting line."
Learning from the calm and confident Savchik, Lindgren was ready to take the next step in her junior season in the fall of 2018.
"Clara graduating caused me to step up a little bit as a team leader. I think my junior year, I started to realize my potential and I did improve quite a bit with my times. It was a little bit more pressure but it was also extremely rewarding."
With the continually improving Lindgren leading the way, North Allegheny won the 2018 WPIAL and PIAA cross country championship. At the state meet, Lindgren placed fourth for her highest finish at PIAAs.
In 2019, North Allegheny repeated as both WPIAL and PIAA champions. At the WPIAL championship, Lindgren dazzled with a second-place showing, clocking in at 18:59.
"It's one thing to have success as an individual but when your whole team is working toward the same goal and it all pays off – it's incredible. The girls on the team are some of my best friends and to have this monumental achievement together has made us a lot closer. It was really exciting both times to walk away with a state championship. It's a great feeling."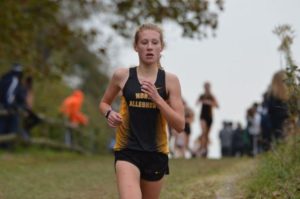 Overall, Lindgren is a four-time WPIAL medalist and three-time PIAA medalist in cross country. She has also been named all-state twice. The talented runner competes year-round, also participating on the Tigers indoor track and field team in the winter and for the NA outdoor track and field team in the spring. In outdoor track, Lindgren is a two-time WPIAL medalist, posting her highest finish as a junior. That year, she raced to a third-place finish in the 3200-meter run at the WPIAL championship with a time of 11:05.78. Her performance helped the Tigers to a WPIAL bronze in 2019 as well.
"I think cross country and track have been the best part of my high school experience…I never would've expected the success that I had as a runner but it really showed me that if you want to work toward something that you can be successful. I've gained so many friends and I've met so many amazing people in our community because of it."
Not only an exceptional athlete, Lindgren is equally as talented off the track. She was one of three cross country athletes to receive the annual Charles Sabatos Scholarship this year. Lindgren is also a member of the National Honor Society and has been involved in the school orchestra since she was in third grade. She's in Strolling Strings and plays the violin. Additionally, Lindgren is a member of NA Chess, she's part of the Children's Team Volunteer Program with the Pittsburgh Hospitals and volunteers at Animal Friends on the weekends.
"To look back, I'm proud of my achievements but I also think I have a lot more potential and I'm looking forward to my college years too to see how I can grow as a runner and an athlete."
With a collection of WPIAL and PIAA medals to her credit, Lindgren will look to add to her trophy case at the collegiate level next season at the University of Delaware. She will major in Exercise Science and hopes to be a Physician's Assistant one day.