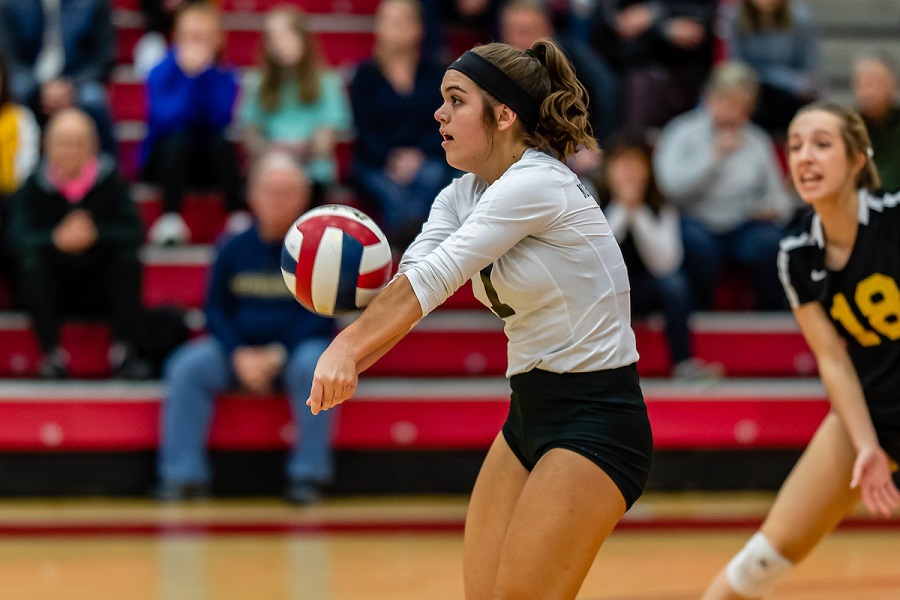 Student-Athlete Profile: Senior Libero Malia Duffy
For the last three seasons, the North Allegheny girls' volleyball team has asserted itself as the most dominant in the state in the largest classification. Winners of three straight PIAA titles in Class 4A, the Tigers boast a wealth of depth and overall talent. Contributing to that expertise and flair on defense is senior libero Malia Duffy.
Whenever North Allegheny is in need of an electrifying play on defense, Duffy always seems to be in the right place at the right time.
"Not only is it defense but I think of it as being the glue of the team," said Duffy of being a libero. "The energy and keeping everyone together – cheering them up when they make mistakes, I feel like that's a big part of the libero position."
Duffy began her volleyball career in fifth grade at St. Theresa of Avila middle school. By the time she reached high school at North Allegheny, she had the luxury of learning her defensive position from two All-WPIAL liberos, sisters Erin and Allena Carmody. Erin Carmody is currently a sophomore defensive specialist at Pitt-Johnstown and Allena Carmody is a freshman libero at Robert Morris University. Both sisters were exceptional illustrations of how defense is played at North Allegheny.
"They were definitely great leaders for me," said Duffy of the Carmody sisters. "They were always great team players and they always encouraged me when I came in to play with them."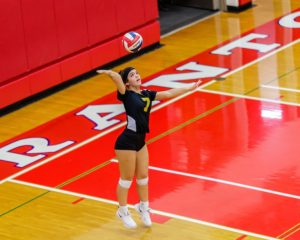 With continued hard ward work and refinement, Duffy became a regular in the NA defensive alignment in 2018 as a defensive specialist and was part of the Tigers' successful WPIAL and PIAA title defense. With the graduation of Allena Carmody following the 2018 championship season, Duffy assumed the role of North Allegheny's full-time libero for 2019 campaign.
The 5'4" defensive general had a remarkable senior season for North Allegheny and was rewarded for her play. Duffy was named first-team all-section by the Big 56 Conference and earned second-team All-WPIAL honors.
"It was really special. It finally showed that all the hard work that I've been putting in from practices through the years and waiting for my time to shine as a senior – getting that recognition felt really good."
As the Tigers advanced to the state playoffs and continued their quest for a PIAA three-peat, Duffy seemingly saved her best performances for the biggest stage. Against the District 6 champion State College Little Lions in the PIAA quarterfinals, Duffy posted 11 digs and a pair of aces as the Tigers rolled to a 3-0 sweep.
In the PIAA semifinals, North Allegheny toppled Landisville Hempfield, the District 3 champs, thanks in part to a fantastic defensive display by Duffy. The Tigers prevailed 3-1 and Duffy contributed with a team-high 17 digs.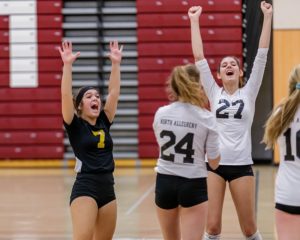 Engaged in a five-set thriller for the PIAA championship against Bishop Shanahan, Duffy again came through on defense with 11 digs as the Tigers edged out a 3-2 win, including a 16-14 decision in the final set.
"The excitement – that's what volleyball is all about. I really enjoyed going down to the last point and feeling that energy. Just being able to (win a championship) with my friends, who have been a part of that team for all these years, it was a really special moment."
In addition to volleyball, Duffy is a member of the National Honor Society and sings for the North Allegheny Choir and North Allegheny Chamber Choir. She also sings in her church choir at St. Theresa of Avila and is also a member of the Girl Scouts.
Next season, Duffy will go from one championship program to another as she'll continue her volleyball career at Westminster College, the reigning champions in the Presidents' Athletic Conference. She has not yet decided on a major at Westminster.