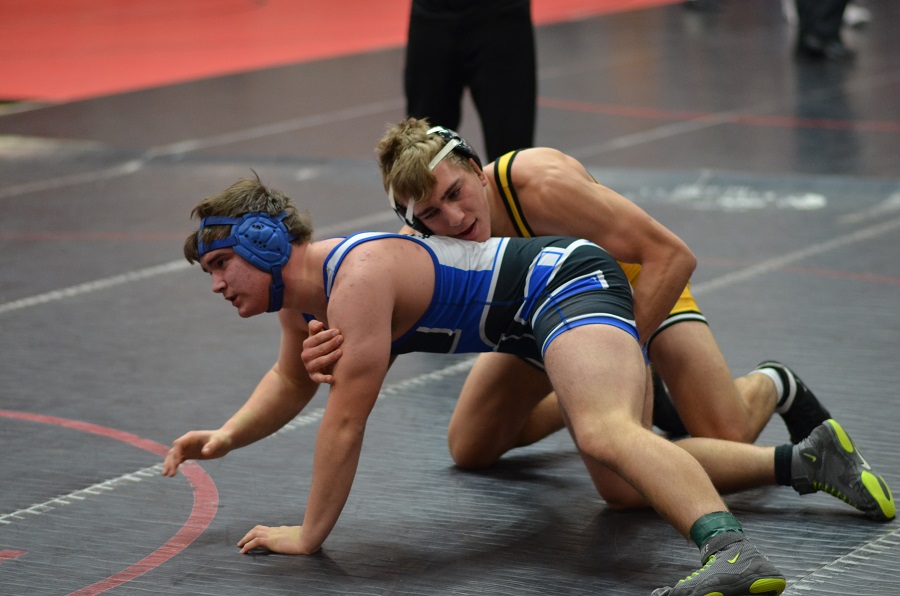 Student-Athlete Profile: Senior Nick Marcenelle
Over the last four years, the growth and development of senior wrestler Nick Marcenelle has been immense.
"I grew a lot both physically and mentally from freshman to senior year," said Marcenelle.
The transformation for Marcenelle began freshman year during the 2016-2017 season as an immediate contributor on the varsity roster. That season, the Tigers reached the PIAA semifinals, giving Marcenelle a chance to wrestle at the Giant Center in Hershey.
"Being able to be a central part of the team and learn from the older guys, it was cool starting off. Being able to fill that role as I got older has been an interesting transition to see."
While he did contribute as a freshman, Marcenelle posted a record of only 15-23 his rookie year. Under the guidance of head coach Sunny Abe, Marcenelle competed at 145 pounds and improved to 21-16 as a sophomore. He also placed fourth at the Section 3-AAA individual tournament which qualified him for the WPIAL tournament for the second straight year.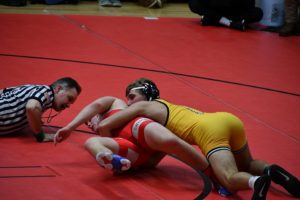 Following his sophomore year, Marcenelle saw an even bigger upsurge in success as a result of his determined efforts in the weight room prior to his junior season.
"The big thing for me was strength training and weight training…I started working out in the weight room hard for the first time at the end of my sophomore season. That was the big thing for me, just really delving into weight training heavily and gaining more confidence."
Marcenelle's hard work paid off in his first bout of the 2018-2019 season. At North Allegheny's first section dual of the season against Shaler, Marcenelle matched up with Titan standout Jake Pollak at 160 pounds. Marcenelle made quick work of Pollak, collecting a pin fall in just 1:38 of the first period.
As the confidence soared, so do did the amount of victories. By seasons end, Marcenelle won an efficient 21 of 24 bouts. Along with weight training, Marcenelle credits one of his teammates, Jon Hoover, for his junior year success. Hoover is a member of North Allegheny's 100-win club and is currently a freshman at the Virginia Military Institute.
"(Hoover) was my practice partner all of my junior year. You can only really get better by getting smacked around in the room…I was able to learn a lot from him that way. He was a good influence for me."
The hard lessons learned in practice as a junior continued to pay dividends for Marcenelle's fourth a final year on the team during the 2019-2020 campaign. With a career-best season at 195 pounds, Marcenelle rolled to a 38-13 record as a senior. He took second place at the Section 3-AAA individual tournament and placed fourth at WPIALs, qualifying him for the PIAA individual tournament for the first time in his career.
"I never really thought I could compete at that level. This year, practicing in the room with other guys who are going D-I and doing very well against them…I've gained a lot of confidence."
Along with Jon Hoover, another major influence on Marcenelle's wrestling career is his father, Matt, who was a four-year letterman at Clemson University. Like his father, Marcenelle will take his talents to the NCAA Division I level next season when he joins the roster at Harvard University.
"(Harvard) has always been a brass ring for me. It's kind of always been somewhere I that thought would be a good goal to work for academically."
Marcenelle finished his North Allegheny career with a record of 95-55.
Off the mat, the NA grappler creates video courses about programming on the internet and he started a non-profit, OneBook Inc., that organizes book and school supply donations. He is also a National Merit Scholar, National AP Scholar and earned first place at the PA Computer Fair.
Marcenelle plans to pursue a degree in Computer Science and will attend Harvard on a Marine Corps ROTC scholarship.