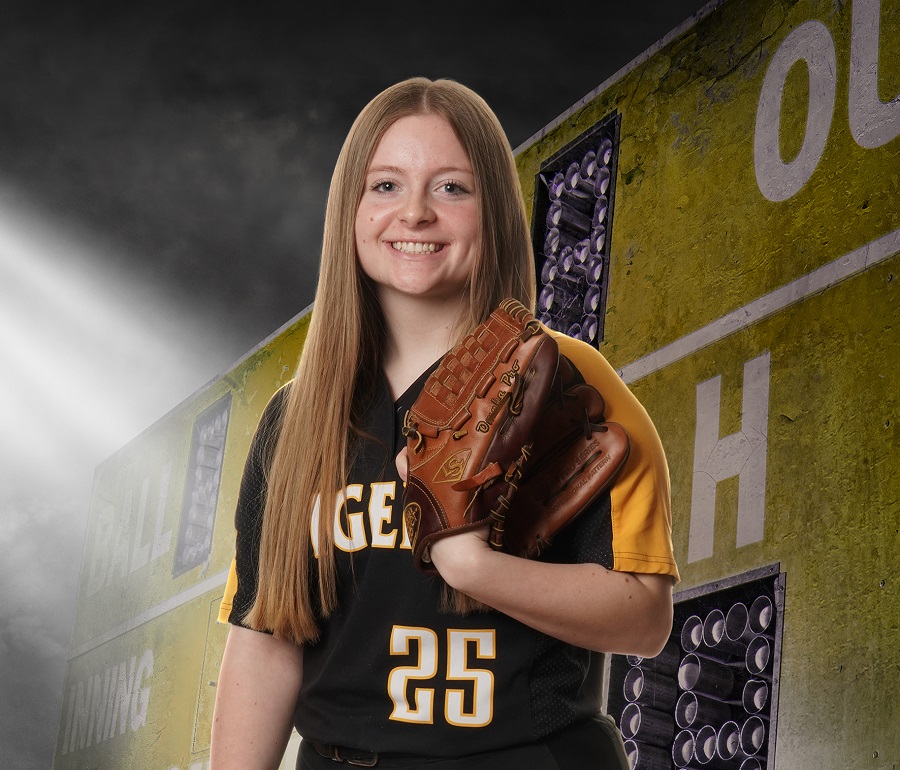 Student-Athlete Profile: Senior Pitcher Addi Mangieri
Ten years ago, eight-year old Addi Mangieri was enrolled in a pitching camp at La Roche College where she worked with former North Allegheny pitcher, and then-collegiate hurler, Deanna Tritinger. A decade later, the two pitchers with NA connections will be reunited next season as player and coach at Chatham University.
As a youngster, Mangieri had a noticeably strong arm and began working with Tritinger on a regular basis beginning in 2010.
"Every Sunday morning in the fall I would go to La Roche and 'Coach D' was the one who taught me how to pitch," said Mangieri. "She took me under her wing and we had a great connection. Up until I was 11-years old, she was my full-time pitching coach."
Not only her pitching coach, Tritinger served as a role model as well for her young pupil.
"I always looked up to her," said Mangieri of Tritinger. "She spent so much time on me. I was only 8 or 9-years old but she put on the side with the high school players and advanced pitchers. She saw something in me and knew I could be great one day."
Tritinger is now in her fourth-year as head coach at Chatham University, but she began her trek in softball at North Allegheny. As a three-year member of NA's starting rotation from 2008-2010, Tritinger posted a record of 17-8 with a scant 2.19 ERA. In 178.2 innings, she struck out 80 batters while walking only 46. Continuing her career at La Roche, she pitched from 2011-2014 for the Red Hawks with multiple no-hitters. After two seasons as an assistant coach at La Roche, Tritinger took over as Chatham's head coach in the fall of 2016.
On a recruiting mission in the summer of 2019, Tritinger saw Mangieri at a softball tournament and the two re-connected. While Mangieri's future with the Chatham Cougars is established, it didn't come without the hard work and dedication she put in at North Allegheny.
As a sophomore, Mangieri made two appearances as a pitcher and played in six games as a position player for a veteran-laden NA softball team. Prepared for an expanded role entering her junior season in 2019, Mangieri suffered a setback.
"It was about a week or two before the season started and I was getting this severe arm pain and it was awful," said Mangieri. "I decided to push through it and that didn't go very well. It got to the point where my arm would barely go in a full pitching circle."
Doctors diagnosed Mangieri with scapular dyskinesia and a winged scapula. The injury kept her out of action for six months.
After a long road of recovery with consistent physical therapy and visits to the chiropractor, Mangieri returned to full health and was ready to be a part of North Allegheny's rotation of pitchers this season. However, the spring sports season was canceled due to COVID-19, and although for a different reason, Mangieri was kept off the field yet again.
Undaunted, Mangieri is ready to grow from the adversity she's faced over the years and continue her career at the next level.
"There was one point with my injury that I never thought I could pitch again. Being able to not only pitch again but play in college is absolutely incredible."
At Chatham University, Mangieri will bring with her a pitching repertoire that includes a fastball, change-up, drop-curve, screwball, rise-ball and slurve. Many of those pitches taught to her as a youth by her mentor, coach Tritinger.
"I think that this speaks to the legacy that NA softball has within the softball community," said North Allegheny head coach Morgan Vescovi. "It's a program that develops not only successful players, but also coaches and community members who continue to play, develop, and support softball wherever we end up; it truly comes full-circle. I look forward to seeing Addi's college career start next year, and wish her the very best."
Off the field, Mangieri is a member of the North Allegheny Orchestra, Strolling Strings and SADD (Students Against Destructive Decision). She plans to major in Exercise Science/Pre-Physical Therapy at Chatham University.
(Above photo of Addi Mangieri courtesy of Game ON Photography.)