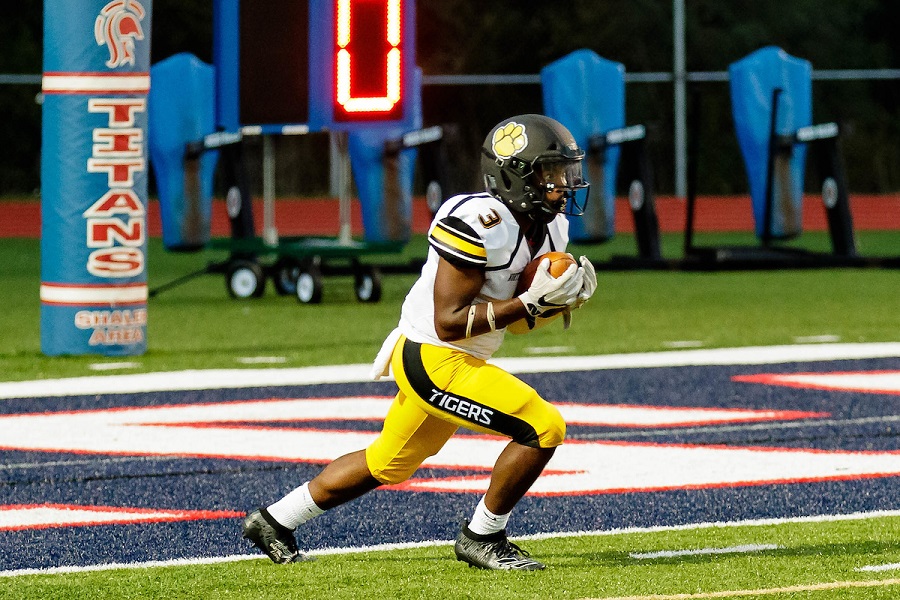 Student-Athlete Profile: Senior RB Percise Colon
Some things can be summed up by mere statistics and measurements. However, the heart of a champion is something that cannot be calculated. For senior Percise Colon, the diminutive running back is living proof that good things do indeed come in small packages.
Standing at 5'4" and 178 pounds, Colon has eagerly taken on the unfair perception that he may be too small to play football.
"It's been like that my whole life growing up," said Colon. "I like that guys underestimate me. When you underestimate me, it's already too late – I've already got you."
For those foolish enough to think Colon isn't big enough to play running back in Pennsylvania's largest classification, they learned the hard way that North Allegheny's scat back has an unmatched will to win. As a senior in 2019, Colon rushed for 1,089 yards and 10 touchdowns. He also added two more touchdowns on special teams and was named first-team all-conference in Class 6A by the Big 56 Conference.
"It means a lot," said Colon about being named all-conference. "It shows a lot of people that I can play ball. It doesn't matter about my height. The biggest thing an athlete can have, that no one can take away, is heart. If you have heart, nobody can touch you, in my opinion."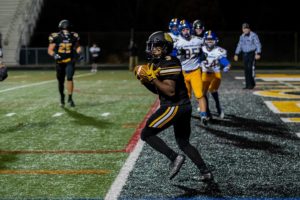 Colon's initial contributions at North Allegheny came during his sophomore season in 2017. On a veteran-laden team, Colon generated splash plays on special teams and put everyone on notice of his big-play potential in a week eight game against Hempfield. During a 63-28 victory over the Spartans, Colon rushed for two touchdowns and scored a third with an 88-yard kickoff return.
As a junior, Colon saw increased playing time at running back and served in a complimentary role to senior 1,000-yard rusher Ben Maenza.
"Ben was a great teammate and any questions I had, he helped me to become a better running back and understand the playbook. That helped me out a lot."
Taking advantage of his opportunities as a junior, Colon's quick burst allowed him to rush for 438 yards and eight touchdowns, all while averaging 10.0 yards per carry. With the 1-2 punch of Maenza and Colon, the Tigers sprinted their way to a 10-1 record, a Class 6A Quad County Conference title and an appearance in the WPIAL semifinals. Colon concluded the 2018 season with second-team all-conference honors.
Following the graduation of Maenza, Colon became the focal point for NA's rushing attack in 2019. Boasting a unique blend of speed and balance, Colon does not shy away from the physicality of the game.
"Truth be told, I love getting hit and I love hitting. I'm not afraid of contact at all."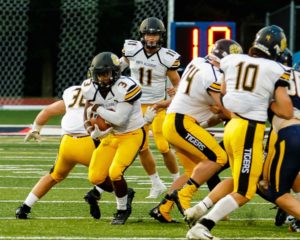 For opponents, making contact with Colon might be wishful thinking. Sometimes even laying a finger on the uber-quick Colon can be a task. Learning that lesson first hand was Canon-McMillan during a week three contest this past fall. On the first play from scrimmage, Colon raced to the end zone for an 85-yard touchdown run. It was the beginning of an offensive explosion for the Tigers and their tailback. Accounting for 303 total yards, Colon rushed for 260 yards on just 11 carries and averaged 23.6 yards per tote. It was the most rushing yards in a game by a Tiger running back since Alex Papson, a North Allegheny Hall of Famer, rushed for 301 yards against Bethel Park in the 2010 WPIAL playoffs.
"Maybe I won't be in the NA Hall of Fame but to still be in that conversation of having one of the best games at NA in a very long time, that's a great feeling."
With Colon spearheading the ground game in 2019, the Tigers again posted a 10-win season and advanced to the WPIAL semifinals for a fourth consecutive year. One of North Allegheny's biggest moments of the 2019 season was provided by their smallest player in a week two win against the eventual WPIAL champion Central Catholic Vikings.
With North Allegheny trailing 10-3 late in the fourth quarter, Colon returned a punt 60 yards for a touchdown with 2:55 remaining. What made the late touchdown even more impressive was that the Tigers were attempting to block the Central Catholic punt, leaving no one left to provide blocking for Colon on the return.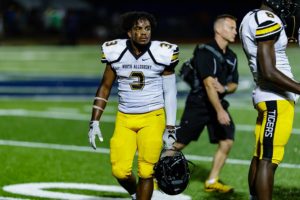 "God just blessed me with vision. When I'm on that field I see everything. It's like everything was in slow motion and I just broke through."
The Tigers added a two-point conversion just moments later to pull out a thrilling 11-10 victory.
As his senior year winds down, the NA speedster is weighing his options for the future. Colon has received offers from Valparaiso University, Butler University, Fairmont State, Walsh University and Clarion University.
Wherever he may decide to continue his football career, Colon will assuredly continue to teach opponents that he may be small in stature, but he's big on talent.