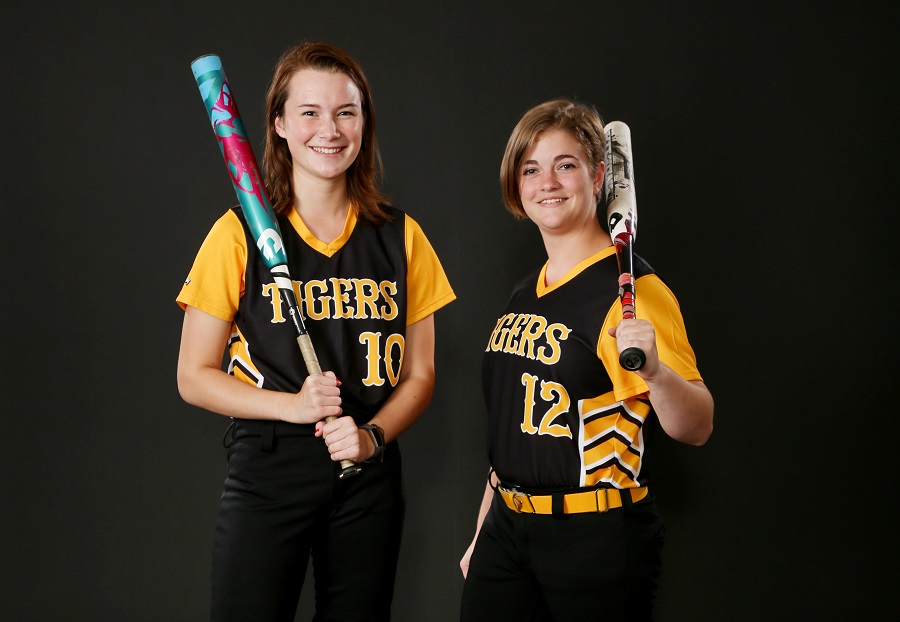 Student-Athlete Profile: Seniors Abby Birch & Kenna White
Following the graduation of five seniors from North Allegheny's 2018 slow-pitch softball team, there could've been concern as to who would take over as the team leaders moving forward. However, the desire and devotion displayed by seniors Abby Birch and Kenna White led the Lady Tigers to one of their best seasons in years.
After a 6-8 finish and first round exit in 2018, the Tigers improved to an 8-6 record in 2019, including an impressive 23-6 playoff victory over Mt. Pleasant in the first-round of the WPISL playoffs. Birch and White, who had outstanding performances in the postseason win, were a big reason why.
"When those (five players) graduated it felt like we had really big shoes to fill," said White. "When we took over, I felt kind of nervous. But I think Abby and I, when you put us together, we lead pretty well."
A versatile athlete, who played every position except pitcher during her slow-pitch career, White was a mainstay at third base this past fall and anchored the hot corner with fervor. Offensively, she posted a .520 batting average with four home runs and 24 runs scored.
Boasting a .456 average and 25 runs scored, Birch patrolled right-centerfield for the Tigers with blazing speed and a strong arm. One of her finest defensive gems of the season was a double play that capped an 18-10 win over Shaler on Oct. 9. With the bases loaded and one out in the final inning, Birch tracked down a fly ball in center field for the second out. The runner at third, unwisely, tried to tag and score. Birch's throw beat the runner home for the final out of the ballgame to complete a doubleheader sweep of the Titans.
"That was one of those moments that I had dreamed of since I was little, to throw someone out at home for the final out of the game," said Birch.
For Birch, her slow-pitch career began at five-years old and was heavily influenced by her parents. Her mother, Liz, played slow-pitch softball at Pine-Richland and her father, Joe, played prep baseball in Mansfield, OH.
"My parents had taken me to Pittsburgh Pirates games ever since I was a baby so I've always been around baseball and softball," said Birch.
Birch attended St. Alexis Elementary and Middle School prior to coming to North Allegheny and it was slow-pitch softball that allowed her to ease in to her new surroundings.
"It's really been my gateway into making new friends and meeting people," said Birch. "When I came to North Allegheny, I only knew girls that played softball so they were my avenue to becoming comfortable at NA. I really feel at home when I'm around everyone on the team."
Also coming from an athletic family, White's mother, Jaclyn, was a figure skater, and her father, Steve, participated in a number of sports, including wrestling at Waynesburg Central High School. While White inherited her athleticism from her parents, it wasn't until she reached seventh grade and met then-assistant coach Dave Metzger that she found her passion for slow-pitch softball.
"When I started playing under Coach Metzger, that's when I grew more than you would imagine," said White. "I was not good at softball when I started but I stuck with it, and I think I stuck with it because of him."
Under the tutelage of Coach Metzger, who just concluded his first season as NA head coach, White, Birch and the rest of the Tigers gelled together to become a close-knit and successful unit.
In the opening round of the 2019 WPISL playoffs, and on the strength of their two senior leaders, the Tigers exploded for a 17-run avalanche that buried Mt. Pleasant in the first inning. White was a catalyst in the opening frame, providing a home run and a triple. Helping put Mt. Pleasant away in the fourth inning, Birch added an RBI triple en route to a 23-6 win.
"That first playoff game that we won, I was so happy," said Birch. "The team this year, we've all been together for a long time. We've had a strong sense of teamwork with each other for many years now. I felt like this year was a perfect storm for all of us to come together and Mr. Metzger brought out the best in our team."
North Allegheny's playoff run ended in the quarterfinals with a loss to eventual WPISL champion, North Hills.
"Both Abby and Kenna will be missed next season," said coach Metzger.  "For their intensity and dedication to making the team better.  But also for the little things that made them unique…Abby trying to keep her helmet from flying off as she ran the bases, and Kenna always, always being the player covered with the most dirt coming off the field."
Following graduation, Birch will attend John Carroll University and plans to major in Political Science. She hopes to play on JCU's club slow-pitch team.
White is headed to Juniata College and will follow by attending Lake Erie College of Osteopathic Medicine. She hopes to be a Psychiatrist one day.