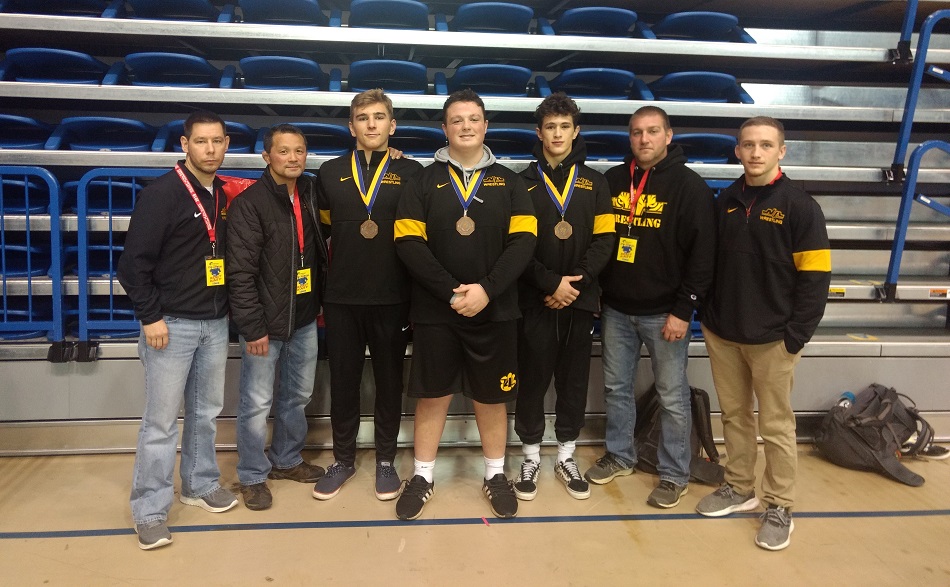 Three Tigers Medal, NA Takes 19th At Prestigious Beast of the East Tournament
Competing at one of the premier wrestling tournaments in the country, the North Allegheny wrestling team finished 19th out of 134 teams at the Beast of the East Tournament in Delaware over the weekend. Individually, three Tigers medaled at the tournament. Senior Ben Grafton took seventh place at heavyweight with a 9-6 decision over Elijah Anthony of Blair Academy. Freshman Grant Mackay finished in eighth place at 152 pounds and senior Nick Marcenelle earned an eighth-place showing at 195 pounds.
In all, twelve Tigers participated at the Beast of the East tournament and four reached day two of the event. Along with Grafton, Mackay and Marcenelle, senior Freddy Junko had a deep run in the consolation bracket before eventually bowing out in the fifth round. Junko's performance was highlighted in day one as the VMI commit picked up his 100th career victory with a 2-1 decision over Nick Paolucci of Archbishop Spalding in the consolation second round.
Another strong performance was provided by Nick Gorman who went 3-2 in his five bouts at 106 pounds, including a win by fall over Patrick Smith of Heritage in the first round of the tournament. Dylan Coy went 2-2 at 120 pounds, adding a win by fall in the second round over ninth-seeded Nate Shelek of Wheeling Park. At 126 pounds, Nathan Monteparte went 2-2 with a tech fall win in his opening bout against Richard Lloyd of St. Georges.  Maximus Stedeford collected a win by fall over Dom Merola of Hanover Park in the consolation prelims at 138 pounds on his way to a 2-2 showing.
Other Tigers who participated in the event included Adam Rohan (132), Ian Branstetter (160), Nick Caruso (170) and Luke Rumpler (220).
North Allegheny will return to section action on Friday, Dec. 27 with a road meet against Indiana.