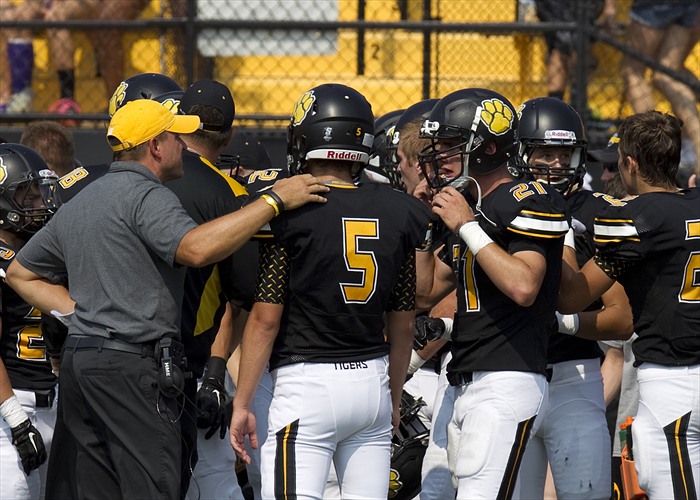 Tigers Await Nationally-Ranked Central Catholic Tonight
The 22nd-ranked team in the country comes to Newman Stadium tonight as the North Allegheny Tigers (1-1) play host to the Central Catholic Vikings (2-0). A big reason why the Vikings have garnered so much recognition this season is because of a stingy defense that boasts eight potential D-I recruits. The individuals that make up the Central Catholic defense have received over 100 college offers, an astonishing total. Senior defensive back Damar Hamlin is the prize recruit, receiving offers from Notre Dame, UCLA, Miami, Ohio State, Penn State and Pitt.
A major key for the Tigers tonight against the much-ballyhooed Vikings defense will be protecting the football. North Allegheny has committed eight turnovers this season, including four in a 28-14 loss to Pine-Richland last week. Two of those turnovers occurred in the red zone and hindered lengthy drives.
North Allegheny certainly has the talent to make things interesting as the Tigers hope to capture an upset on their home field. Receiver Matt Sell looks to continue his momentum from last week after torching the Pine-Richland defense for seven catches, 186 yards and a touchdown. Junior Ethan Maenza started at quarterback last week and has thrown for 274 yards this season. The versatile Maenza has also rushed for 178 yards this year and has accounted for three touchdowns. At tailback is junior Mike Pope who's toted the football 37 times for 139 yards and three touchdowns.
Central Catholic will try to hamper NA's offensive attack with an aggressive, and sizable, defense that likes to fire through the gaps. The Vikings have a titanic defensive line that is tough to move, anchored by 370-pound junior defensive tackle Jamain Stephens. The son of a former Pittsburgh Steelers offensive lineman by the same name, Stephens is joined by Pitt-recruit Rashad Wheeler (280 pounds), junior defensive end Kurt Hinish (280 pounds), and junior defensive tackle C.J. Thorpe (305 pounds). Central Catholic backs up that beef with a speedy secondary and one of the best linebackers in the country in junior David Adams. Adams is considered a top-five recruit at linebacker and is a rock in the middle of the Vikings defense.
On offense, Central Catholic possesses a conservative but extremely effective rushing attack that is spearheaded by running backs Vinny Emanuele and Ron Jones. At 5-9, Emanuele can be hard to find behind his big offensive line and equally hard to bring down, rushing for 251 yards and three touchdowns this season. Jones, a Toledo recruit, has carried the ball for 201 yards and two touchdowns. A big play waiting to happen, Jones burned Bethel Park with an 91-yard touchdown run and an 85-yard kickoff return in week one.
To give its offense a chance, the North Allegheny defense will need to make the Vikings work for every yard gained and prevent the quick strike. While he didn't start at quarterback last week, senior Riley Trueman was able to play the majority of the game defensively at safety. Trueman, who led the team with five interceptions last season, is an extension of defensive coordinator Doug Brinkley on the field and is a pivotal part of the Tigers defense. The team leaders in tackles are Alex Mesaros and Francis Duggan who have collected 18 tackles apiece. On the defensive front, Jacquan Littlejohn and Charles Sanders have dropped opposing quarterbacks for one sack each. If the NA defense can also force a couple turnovers along the way, the Vikings could be ripe for an upset.
Tonight's kickoff between North Allegheny and Central Catholic is slated for 7:30 pm at Newman Stadium. The game will be broadcast live via the internet on the North Allegheny Sports Network with the pregame show starting at 7:10 pm. Randy Gore and Rick Meister will have the call. To listen to tonight's game, click here.