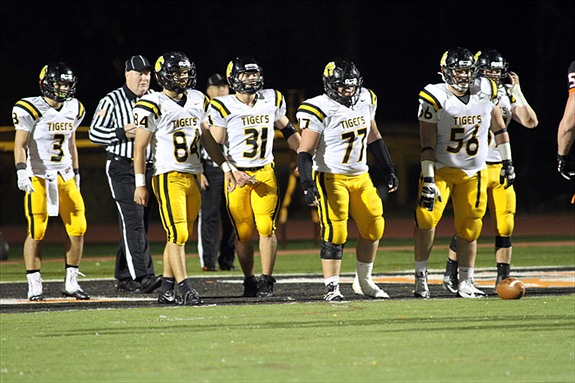 Tigers Await Top-Seed Upper St. Clair Tonight In WPIAL Quarterfinals
For the 13th time since 2002, the North Allegheny Tigers (7-3) will battle the Upper St. Clair Panthers (10-0) in tonight's WPIAL Quarterfinal match-up from Baldwin High School.  Of the previous 12 contests, the Tigers and Panthers have hooked up twice in the post-season. In 2006, Upper St. Clair claimed a 24-3 win in the semifinals en route to a WPIAL title.  In 2011, North Allegheny earned a 28-21 overtime win over the Panthers in the WPIAL Championship at Heinz Field.  Including regular season games, North Allegheny has won three in-a-row over Upper St. Clair and is hoping to extend that winning streak tonight.
The top-seed in the Quad-A bracket, Upper St. Clair has hardly been challenged this season, blowing out opponents on a weekly basis.  The Panthers' tightest game was played in week one with a 16-10 victory over Woodland Hills.  Aside from the opener, USC has stampeded over anyone and everyone in their path, and started the playoffs with a 44-13 First Round victory over Kiski Area last week.
Bolstered by an air-tight defense, Upper St. Clair has yielded just 43 points all season and has posted six shutouts on the year. One of the key components to the defense is a line that is big in the middle and quick on the outside.  The muscle at defensive tackle is provided by Zack Morris and Ben Huss.  At defensive end, Rob Plummer and Pitt-recruit Rori Blair pressure the edge.  A tremendous athlete, Blair is just over a year removed from suffering a stroke that nearly took his life.  Healthy and fully recovered, Blair has helped crumble opposing pass pockets to the tune of a team-high 6.5 sacks.  At linebacker, Kyle Page is Upper St. Clair's leading tackler with 73 stops and free-safety Morgan Lee has 46 tackles on the campaign. Owning good bloodlines, Lee is the younger cousin of Connor and Sean Lee of dominant USC teams of the past.  Sean Lee was a standout at Penn State and is currently a linebacker for the Dallas Cowboys.
On offense, there's not much secret to what the Panthers want to do and that's run the football.  Senior tailback Trevor Morrow is a 1,000 yard rusher and has scored a team-best 16 touchdowns on the ground. Fellow runners Stephen Mackowick and Mac Pope have combined for 657 yards and 18 touchdowns as well, although Pope missed last week's game against Kiski. If Pope is unavailable again tonight, junior Marc Galie will get the start at fullback.  The passing game is led by senior quarterback Joe Repischak who's thrown for 986 yards, four touchdowns and three interceptions.  His favorite target is Morgan Lee with 12 receptions for 212 yards.  With a dominant rushing attack that has hardly been slowed, Panthers head coach Jim Render is hoping to see USC impose their will against the Tigers tonight.
While the Panthers average 38 points per game this season, North Allegheny's defense is coming off back-to-back shutouts against North Hills and Bethel Park. Similar to Upper St. Clair, both North Hills and Bethel Park are teams that heavily rely on the run and neither team amassed more than 176 yards of total offense against the Tigers. The North Allegheny defense is led by linebacker Layne Skundrich who's posted 87 tackles for the year.  Skundrich is followed by Reilly Sullivan who has 77 tackles.  Skundrich, Sullivan and Eric Sprys all have two sacks apiece.  Cornerback and Pitt-recruit Elijah Zeise has a team-high five interceptions.
Making his first start at quarterback last week was senior signal caller Cage Galupi who helped the Tigers to a 28-0 opening round victory over Bethel Park. Galupi hit two key passes in NA's first touchdown drive late in the second quarter and will hope to continue facilitating the Tigers attack against USC.  The leading rusher for the Tigers this season is senior Isaac Weaver who has toted the football 62 times for 467 yards and five touchdowns. Last week, Weaver put the game away in the second half with 120 yards and three touchdowns. If Weaver can run with similar effectiveness tonight, it could go a long way toward earning a trip to the WPIAL Semifinals. Scoring first in tonight's game would certainly give the Tigers a big lift toward a victory. To accomplish that, North Allegheny head coach Art Walker believes his team needs to have a balanced effort.
Kickoff for tonight's WPIAL Quarterfinal meeting between North Allegheny and Upper St. Clair is slated for 7:30 pm.  The pre-game show on the North Allegheny Sports Network will get underway at 7:05 pm from Baldwin, and will include pre-game interviews with USC head coach Jim Render and NA head coach Art Walker. To listen to tonight's broadcast, click here.